Sekiro's Latest Update Encourages Players To Experiment More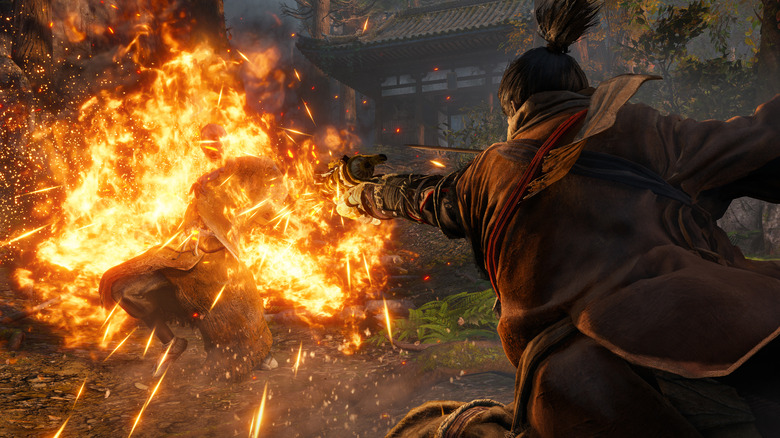 Sekiro: Shadow's Die Twice got off to a strong start, selling over 2 million copies within the first 10 days of release. Though on track to become FromSoftware's best-selling title to date, the game is not without its issues. The latest update aims to address some of those problems by delivering a more diverse and balanced gameplay experience. Most of the changes come in the form of Spirit Emblem adjustments, designed to encourage players to take a more comprehensive approach to their prosthetic tools and combat arts strategy.
Advertisement
The patch will adjust the Spirit Emblem cost of the following prosthetic tools: Lazulite Sacred Flame, the Loaded Axe series, Sparking Axe, and Lazulite Axe. While Sekiro's axes provide a clear advantage against shielded enemies, their windup time does not mesh well with the game's fast-paced combat. The Lazulite Sacred Flame, as a late-game upgrade, is also of limited use in its current iteration. While handy against Headless and apparition-type enemies, you have access to a nigh-infinite supply of Divine Confetti by the time you can obtain Lazulite Sacred Flame, rendering the tool largely irrelevant.
Spirit Emblem consumption rates will also change for the following combat arts: Ashina Cross, Dragon Flash, One Mind, Floating Passage, Spiral Cloud Passage, Mortal Draw, and Empowered Mortal Draw. FromSoftware has reduced the Posture damage dealt by the first hit of Senpou Leaping Kicks and High Monk but increased the damage in the second half of the combo.
Advertisement
For those players struggling to overcome the Blazing Bull, it's your lucky day. The patch will bring reductions to the boss' Posture and Vitality "to improve game pacing and balance time in combat." This change accompanies several bug and performance fixes. Players should see an overall reduction in system crashes, corrupted save files, and other progress-arresting snafus. 
Update 1.03 is scheduled to go live on April 22 at 6 p.m. PDT.