Darksiders 2: Deathinitive Edition Leaked For Switch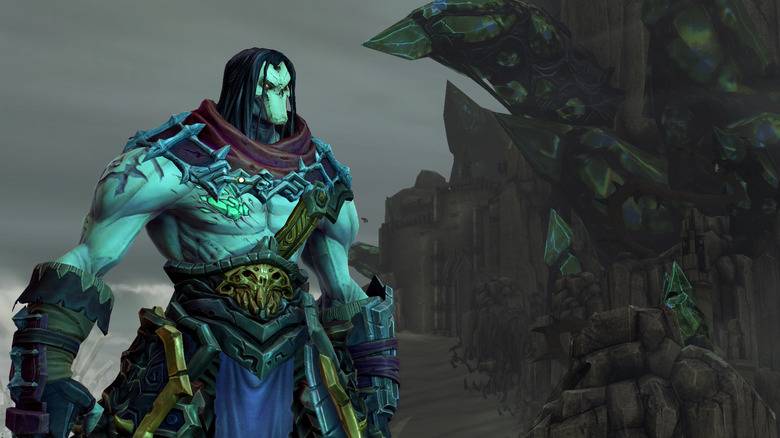 It appears more Nintendo Switch ports are on the way from THQ Nordic. According to a listing on EB Games' Canadian site, Darksiders 2: Deathinitive Edition is also making its way to the Switch, just months after Darksiders: Warmastered Edition launched on the console.
This leak is credible for a number of reasons. To start, the listing actually gives a firm release date for Darksiders 2: Aug. 30, 2019. That's a Friday, which is a fairly common release day for Nintendo Switch titles. It also has the game priced at $29.99, which is the same price Darksiders: Warmastered Edition sells at on the Switch. This is the second of two Darksiders Switch ports that have leaked out ahead of any official announcement; THQ Nordic was actually responsible for the first, accidentally uploading a reveal trailer for the Darksiders: Warmastered Edition port before quickly taking it back down again.
And the biggest tell of all is THQ Nordic's response to the entire thing. When confronted with the Darksiders 2 listing, the THQ Nordic Twitter account responded with a photo of Daenerys Targaryen from Game of Thrones, choosing a scene in which Daenerys is sitting with Sansa Stark, smiling in the most pretend way possible. It's almost meant to say, "We're going to put on a happy face, but we really don't like you right now, EB Games Canada. We really wish you hadn't done that."
As of right now, Darksiders 2: Deathinitive Edition has not been officially announced for the Switch. It's just been leaked. But THQ Nordic isn't saying the EB Games listing is incorrect, either. So we're in the unenviable position of having to tell you that Darksiders 2 could potentially come to the Switch, and it could potentially not come to the Switch, even though it really, really looks like it's coming to the Switch. 
Perhaps THQ Nordic could "leak" us another announcement trailer so we'd definitively know one way or the other.
Should we learn any more about Darksiders 2's fate on the Nintendo Switch, we'll let you know.