Sony Shows Off Two New PlayStation VR Bundles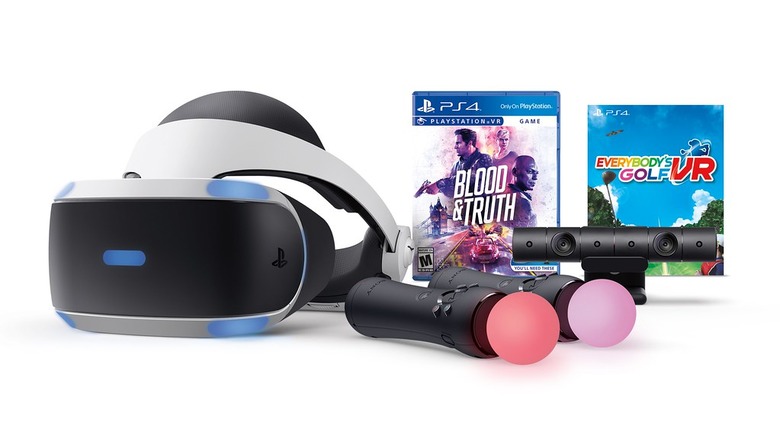 If you thought PlayStation VR support might die out with a new console generation around the corner, think again. Sony has a slew of PSVR titles coming in the weeks and months ahead, and today, the company rolled out two new PlayStation VR bundles that include some of these new games.
Advertisement
The first bundle packs Blood & Truth together with Everybody's Golf VR, and also includes two PlayStation Move controllers and a PlayStation Camera. We have to say: these two games couldn't be more different, with Blood & Truth focusing on action and Everybody's Golf VR being a wacky take on a non-contact sport. But we suppose that if you live in a household with varying tastes, at least one of these titles might be appealing to those you reside with. This package will sell for $349.99.
The other bundle is a bit more slimmed down. It also includes two polar opposite games – Trover Saves the Universe! and Five Nights at Freddy's — but leaves out the PlayStation Move controllers, bringing the bundle's price down to $299.99.
Advertisement
The past month already saw the releases of Falcon Age, Table of Tales, and Jupiter and Mars, so there's already a bunch of recent stuff to check out. Add that to instant PSVR classics like Astro Bot Rescue Mission and Moss, and you'll have plenty to keep you and your new virtual reality headset busy.
And in terms of upcoming PlayStation VR titles, there's a lot to look forward to. In addition to the games above, Sony has a long list of PlayStation VR experiences set to launch this year, such as Iron Man VR, Mini Mech Mayhem, and Vacation Simulator (though Iron Man VR still doesn't have a solid release date). VR modes are also coming to both Concrete Genie (coming later this year) and No Man's Sky.
So no, PlayStation VR isn't quite dead yet. In fact, it looks like the most active thing the PlayStation brand has going on right now, which means it's still worth a look — even if things are bit barren on the PlayStation 4 side of things.
The Blood & Truth + Everybody's Golf VR bundle launches on May 28 for $349.99. The Trover Saves the Universe + Five Nights at Freddy's bundle drops on May 31 for $299.99.