Microsoft Kicks Off Giveaway For Two Game Of Thrones-Themed Xbox Ones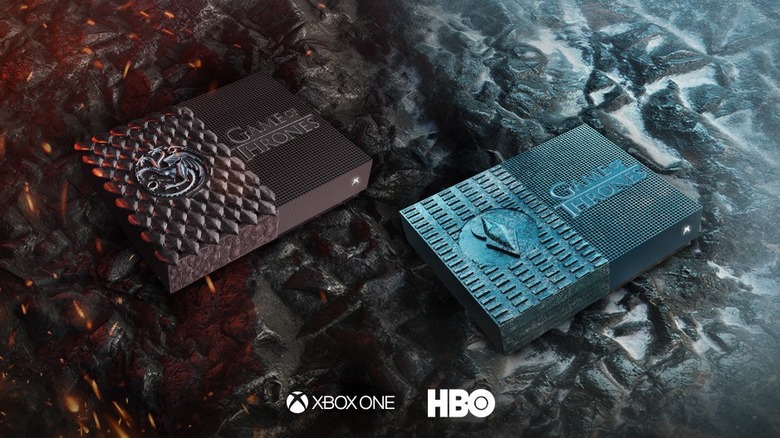 Who doesn't love Game of Thrones? We've been glued to our chairs every Sunday night since the final season started last month, and now with only two episodes remaining, Microsoft is giving two lucky Thrones fans something to remember the series by.
Advertisement
Behold: two Xbox One S All-Digital Edition consoles, custom-designed to honor House Targaryen and the Night King. The Targaryen Xbox One, according to Microsoft, is "covered in leather dragon scales." And the Night King Xbox One features "weathered tin metal to replicate his iconic armor." You know — that sturdy, impenetrable armor that no one could possibly fit a dagger into. No one.
Anyway, Microsoft is giving each console away a little bit differently. For the House Targaryen Xbox One, hopeful contestants will need to retweet the company's reveal post and add the hashtags #GamerThrones and #Sweepstakes. For the Night King Xbox One, fans simply need to "like" the reveal post on Facebook. Each action will only take you a couple of seconds, and come on – look at those Xbox Ones. They are arguably the best custom consoles Microsoft has made thus far. And there have been many others.
Advertisement
Do we have a few small gripes? Since you asked, yes. How in the world is there not a custom Xbox One for House Stark? Why don't these consoles have their own startup sounds? That Targaryen Xbox One deserves a dragon roar. It just does. And the Night King? Hopefully none of you have young daughters around. They might just shatter the thing into a thousand tiny pieces.
The designs are very cool, though, and you can tell a lot of time went into making them. So if you've been a fan of the Game of Thrones TV series since it started way back in 2011 — or if you've been reading the books since the mid '90s — these custom Xbox One SADs are a nice send-off for the show that redefined television.
We can't wait to see what Microsoft cooks up for all of the Game of Thrones prequels and spin-offs.