Gears 5 Box Art Leaks Along With Potential Release Date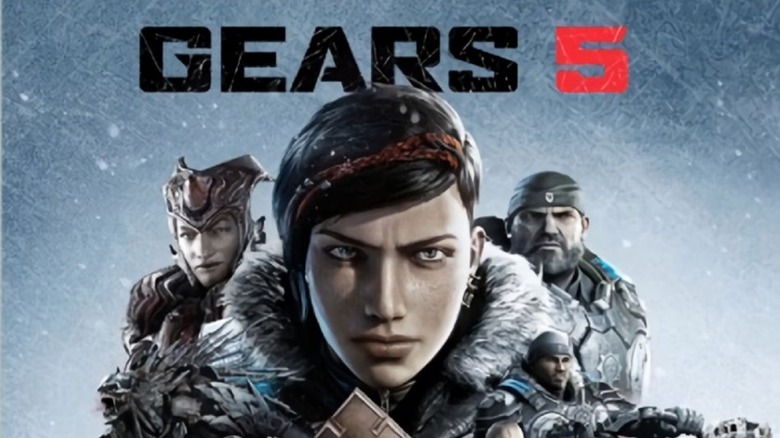 As we've said before, foreign software ratings boards are the gifts that keep on giving. Just like one outed the PC version of Octopath Traveler last month, another has shown us what Gears 5 will probably look like on store shelves. Not only that, it might have told us exactly when we can buy Gears 5, too.
According to Game Rant, the leak comes courtesy of Taiwan's software ratings board, which listed the box art along with a release date of September 10, 2019. That's a Tuesday, which is an entirely believable day to release a new video game. And the release month doesn't ring any alarm bells either, as most Gears titles have released in either late summer or fall.
As far as the box art itself is concerned, it lines up with what we'd expect to see. It depicts the cast of characters layered over a yet-to-be-determined location, giving particular prominence to Kait Diaz (who figures to be the game's main protagonist). And it touts support for 4K, HDR, and Xbox One X enhancements, and notes the game will be an "Xbox One Console Exclusive." That's Microsoft-speak for "this game is also coming to PC," and frankly, it would be surprise if it wasn't given Microsoft's recent focus on PC gaming.
We already knew Gears 5 was coming in 2019, so if anything, this leak sort of reinforces what many had assumed anyway: that Microsoft would hold this marquee title for a fall release. Other than that, all that's left to do is wait to hear it straight from the horse's mouth. Microsoft will have a fairly big presence at E3 this year and plans to hold a conference on Sunday, June 9 at 4 p.m. ET. Tune into that, and the odds are pretty good that you'll see some of Gears 5 in action and get an official release date to mark in your calendar.
Should we stumble onto any Gears 5-related news before E3, we'll let you know.