Dauntless, A Free-To-Play Monster Hunter Clone, Arrives Today On PC, PS4, And Xbox One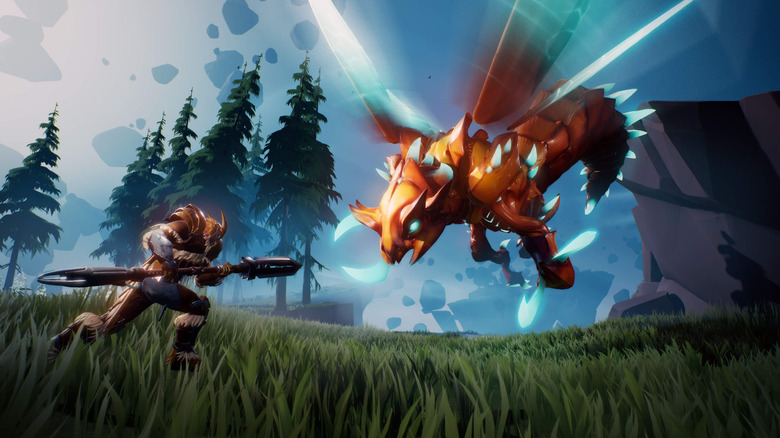 If you like killing monsters and wearing their body parts, we have some good news for you: the monster-hunting RPG Dauntless has officially launched on PC, PlayStation 4, and Xbox One. And it's entirely free to download and play.
Advertisement
In terms of what you can expect from Dauntless, it's not all that different from what you'd find in the Monster Hunter series. There's a home hub, of sorts, where you can pick up quests, forge new gear, and shop for items that'll help you slay giant beasts. Combat comes right out of the Monster Hunter playbook, too, with giant weapons that eventually dice parts off of the monsters you're battling, and combos that enable you to more quickly deal damage. And you can team up with those you meet in Dauntless or friends who are already playing the game, ensuring you don't have to face the game's threats alone.
Where Dauntless manages to one-up Monster Hunter, however, is with cross-platform play and cross-progression. Players on all platforms can link up and play with one another, and can potentially run into each other in the Dauntless world. And Dauntless, which is available on PC through the Epic Games Store, makes use of your Epic account to sync your progress between platforms. If you play on your Xbox One while at home, for instance, and later embark on a hunt using your laptop, the account you're playing on is exactly the same. This'll be especially wonderful when the Nintendo Switch version of Dauntless arrives (though there's no ETA on when that might occur), and really, is a feature that every video game should support.
Advertisement
As far as the free-to-play aspects of Dauntless are concerned, they're par for the course for an Epic-published title. Like Fortnite, Dauntless has something called a Hunt Pass that rewards players for ranking up by giving them in-game currency and materials for cosmetics. And there are shops in the hub city of Ramsgate that'll absolutely sell you outfits and other cosmetic goods for real-world money. We played through the beginning tutorial of Dauntless and ran around Ramsgate to meet all of the vendors, and haven't felt harassed to buy anything just yet. Then again, Fortnite doesn't really throw its shop in your face either. The temptation to spend money comes from seeing another player with something really cool. And that is definitely going to happen in Dauntless.
It'll be interesting to see how Dauntless performs as time goes on. Monster Hunter: World was a huge hit for Capcom, and Dauntless has an even lower barrier to entry thanks to its free-to-play model. Similar to the role Fortnite plays in some people's lives, it could be a fun game to pick up and play with friends, even if you don't spend any real-world cash. But if you want to look like the baddest, Behemoth-bashing Slayer to ever walk the streets of Ramsgate, you'll at least have to front for the Hunt Pass, which runs around $10.
Advertisement
Dauntless is free to download today for PC (via the Epic Games Store), PlayStation 4, and Xbox One. Nintendo Switch and mobile versions of the game are in the works.