THQ Nordic Announces Darksiders Genesis, A Dungeon-Crawler RPG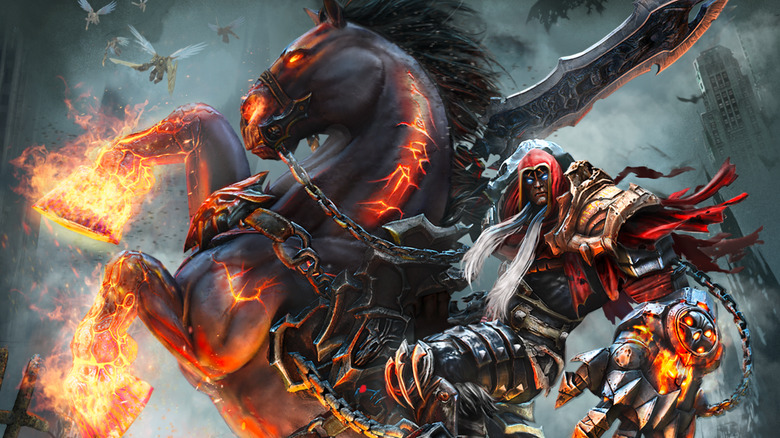 The name leaked last month, and now it's official: Darksiders Genesis is the newest game in the Darksiders series.
The news, first reported by IGN, comes a few hours ahead of THQ Nordic's second planned game announcement. And it paints a pretty fascinating tale about what exactly Darksiders Genesis is. If you've played any of the Darksiders titles in the past, this one is shaping up to be very different, as it's not being described as a Zelda-esque action-RPG so much as a spin-off take on the dungeon-crawling Diablo formula. So with that, you should have a bit of an idea about what to expect: top-down view, dungeons full of monsters, and loot to collect.
Advertisement
It could be just what the Darksiders series needs.
According to IGN, there's a brand new character taking center stage in Darksiders Genesis; Strife, who is yet another Horseman of the Apocalypse. It'll be Strife's job to once again prevent a whole lot of supernatural nonsense from taking place, and this time, the big bad is going to be Lucifer himself, who has designs on bringing a whole lot of pain and destruction to humanity. And we now know a bit about what we can expect in terms of gameplay, as well. There'll be endless amounts of ugly monsters to fight. There'll be puzzles. There'll be cool boss battles. And there'll be "serpent holes from heaven to hell," whatever that means.
There's a pretty nice teaser trailer at the top of IGN's article, if you'd like to give it a look. And it reveals that Darksiders Genesis is coming to just about every platform imaginable. It'll hit PC (by way of Steam), PlayStation 4, Xbox One, Nintendo Switch, and Google Stadia. We don't know when the game will release quiet yet, but clearly, if you have some kind of modern-day gaming device, or if you have anything with a screen capable of running Chrome, you'll be able to play Darksiders Genesis.
Advertisement
We'll have an eye on THQ Nordic's Twitter feed today to see if the company offers any mention of a release date for Darksiders Genesis. That didn't happen with the SpongeBob Squarepants remaster yesterday, but we'll have our fingers crossed that this time is different.