Red Dead Online Celebrates Independence Day With Discounts, Bonuses, And More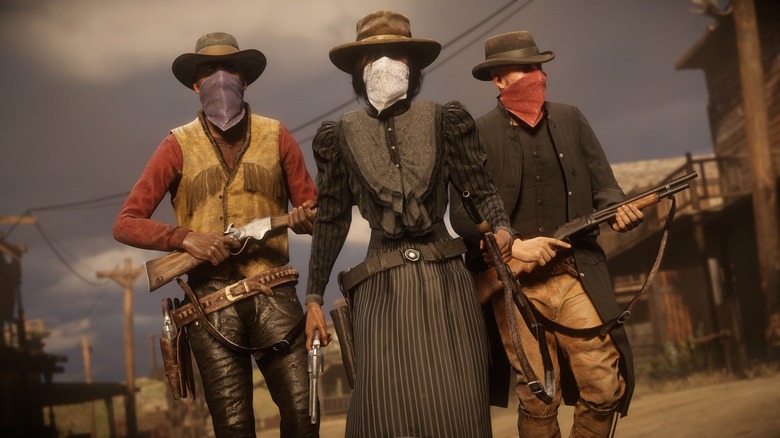 In honor of Independence Day, Rockstar Games has announced discounts, in-game bonuses, and free content for Red Dead Online players. The publisher is offering 30% bonus cash and XP on all Free Roam Missions, in addition to new clothes, weapons discounts, and the free "Respectful Bow" emote.
During the festivities, you can claim free Gun Oil from Red Dead Online merchants. You can also snag 30% off select weapon components, including Improved Rifling, Iron Sights, Scopes, Stocks, and Wraps. The Evans Repeater is 25% off this week. If you're feeling patriotic, you can also purchase Red, White and Blue bandanas at 50% discount and grab a free Red and Blue camp flag.
Rockstar has made some additions to the Wheeler, Rawson and Co. Catalogue, including the Pelt Half Chaps. Made from fox and coyote pelts, the catalogue has a limited supply of the new item. Those looking to refine their wardrobe can now purchase the short brimmed Cromwell Hat, or the studded Cabrera Pants. Pick up the "Respectful Bow" greet to further solidify your aura of dignity. The emote is free this week only, so claim it before the promotion ends.
These Independence Day bonuses are the latest in a consistent stream of updates for Red Dead Online. Rockstar has supported the game with new clothing, missions, characters, and events since launch and shows no signs of slowing down. This new content follows yesterday's announcement regarding exclusive Red Dead Online and Grand Theft Auto Online perks for Twitch Prime members. To take full advantage of this month's bonuses, take a few seconds to connect your Twitch Prime and Rockstar Social Club accounts.
Though perks are always exciting, these bonuses remain exclusive to console users as Rockstar has yet to announce a PC port for Red Dead Redemption 2. The company never released a PC version of the first title in the franchise and has yet to confirm one for the sequel. Grand Theft Auto 5 came to Windows about a year and a half after its initial console launch; it's possible RDR2 may follow a similar timeline.