Nintendo And Disney Team Up For Adorable New Switch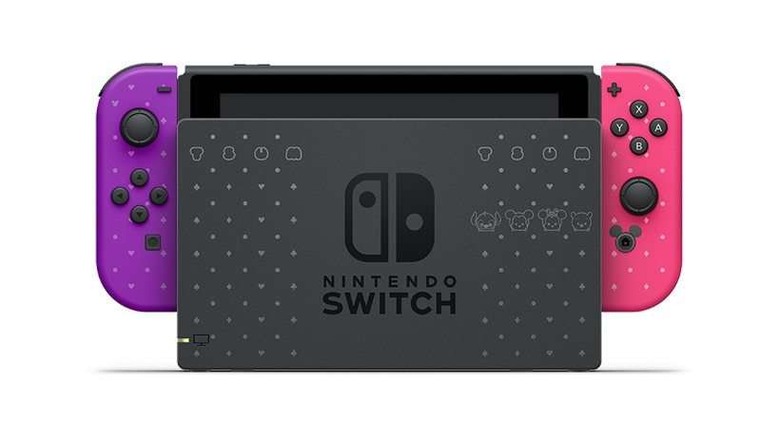 Why does Japan get all the cool stuff? Nintendo and Disney are joining forces to release a special-edition Nintendo Switch in honor of Tsum-Tsum Festival, which releases in Japan this October and globally this year. But unless you're importing, you're not getting one.
According to The Verge (via IGN), this new Nintendo Switch model is for the Japanese audience only. It makes sense, as Disney Tsum-Tsum is a line of stuffed collectibles sold in that country, and the property is most popular there. But Tsum-Tsum Festival is slated to come West at some point, and there are definitely some folks here who would love this design and wouldn't mind seeing Nintendo offer a wider variety of Switch designs in general.
Just look at it. Everything about it screams cute, from the patterned dock right down to the little Mickey Mouse ears visible above the Switch home button. We're sure Nintendo will go wild with the Switch Lite when it arrives, and there are already multiple colors planned for launch. But the company has otherwise left owners of the original Switch hanging when it comes to new looks; at least those who don't want to wait a few years for each new Pokemon game to come out.
The existence of specially designed Joy-Cons does bring up an interesting question, though, given Nintendo's recent issues with the controllers. If someone sends their Tsum-Tsum Joy-Con away to be repaired or replaced, will they get one with a similar design in return? That's something to keep an eye on, especially if the Tsum-Tsum Switch is a limited-time thing.
The Tsum-Tsum Festival Nintendo Switch will cost around $333 when it releases Oct. 10. We're honestly not sure where you might be able to go to import one when the time comes, or even which retailers will be selling it to Japanese customers. All we know is this: Nintendo doesn't have plans to sell it here. So the odds of you getting this adorable little machine by any other means are slim.