The Coolest-Looking PS4 Is Back, And It's Cheap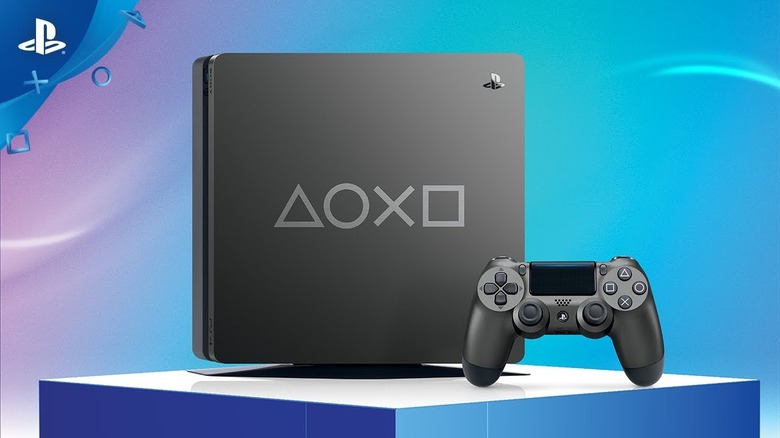 Remember the Days of Play version of the PlayStation 4 Slim? The 1 TB model with the sleek dark gray coloring and the PlayStation button symbols on the side? It's back. And it's actually cheaper than it was just a few months ago.
Walmart — either because some miracle happened or because someone stumbled upon stock in a warehouse somewhere — now has this console on sale again. But instead of charging the typical $300 for a PlayStation 4 Slim, the retailer is actually selling this model, which is part of a limited run, for $250. It's a solid choice, with plenty of space to store your digital games and movies (if you're someone who downloads movies instead of streaming them). And just look at it. The thing looks cool.
The one knock we could have on this console is the fact that it doesn't come with games. We know not every day can be Black Friday, but it's mega tough to beat last year's 1 TB PlayStation 4 Slim, which was priced at $200 and included a physical copy of the outstanding Spider-Man. But the truth is, there are plenty of cheap games you can buy out there. Sony's PlayStation Hits catalog has been growing steadily over the past few years, and now includes games like Horizon Zero Dawn, Persona 5, Bloodborne, The Last of Us Remastered, and just about every Uncharted game for $20.
And hey: EA Access is now available on the PlayStation 4, too. It's not quite as filled out as the Xbox One version (due to lack of backward compatibility), but you'll still find a healthy assortment of games in there for $4 a month.
If you're in the market for a new PlayStation 4 — or if you just really want the best-looking version of it — you should probably hop on this ASAP. It's destined to be snapped up pretty quickly at its current price.
(via Kotaku)