SNES Controller For Nintendo Switch Revealed In FCC Filing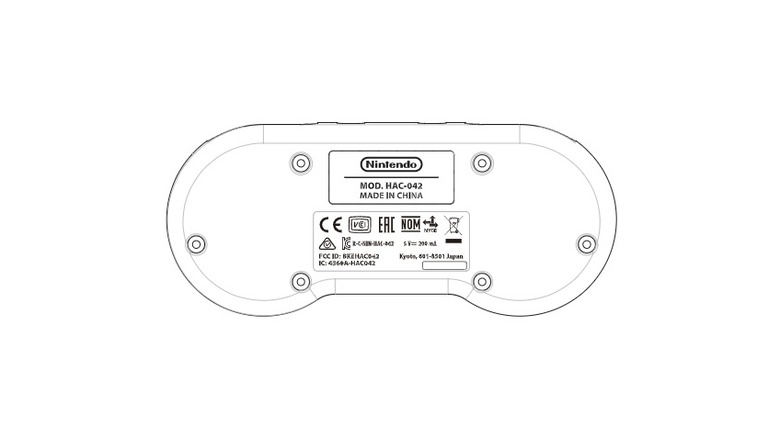 Could Super Nintendo games finally be on their way to the Nintendo Switch? It certainly looks that way, now that a new FCC filing has revealed an SNES controller for the company's latest console.
First, let's dissect the diagram above. It's apparent based on the shape alone that the controller is based on the SNES gamepad design. It even has screw holes in almost all of the same locations. Of course, one could argue that this is potentially a controller for the SNES Classic, but there's something else on this particular design that signals otherwise: the model number.
If you have a Nintendo Switch sitting around, take a quick look at the back. You might see a model number that reads "HAC-001." Other Nintendo Switch accessories have similar model numbers. A right-side, grey-colored Joy-Con is "HAC-A-JCR-C3." A Switch Pro Controller is "HAC-013." As you can see, the SNES gamepad above sports a model number of "HAC-042," which means it belongs to the Nintendo Switch line of products.
And then there are the buttons on top. These buttons are present on Nintendo Switch Joy-Cons as well as on the NES controllers Nintendo released for the Switch, and serve as the "left bumper" and "right bumper" buttons players often have to use to start games. Why these would be necessary on the SNES controller (which has shoulder buttons) is anyone's guess, but it might have to do with the bumpers needing to be separate from the SNES buttons for emulation purposes.
Now, with all that out of the way... when can we expect SNES games to start showing up on the Nintendo Switch? It could be sometime soon. Sept. 19 marks the one-year anniversary of Nintendo Switch Online, which also brought us the ability to play NES titles through the service. And though Nintendo's added a lot of NES games since, it seem as though the company's been scraping the bottom of the barrel lately.
SNES games would really help people get excited about Nintendo Switch Online again. If Nintendo also sells the SNES controller from the get-go, even better.
We'll update you should Nintendo officially announce SNES games on the Switch.