Fortnite Season 10 Week 4 Battle Star Location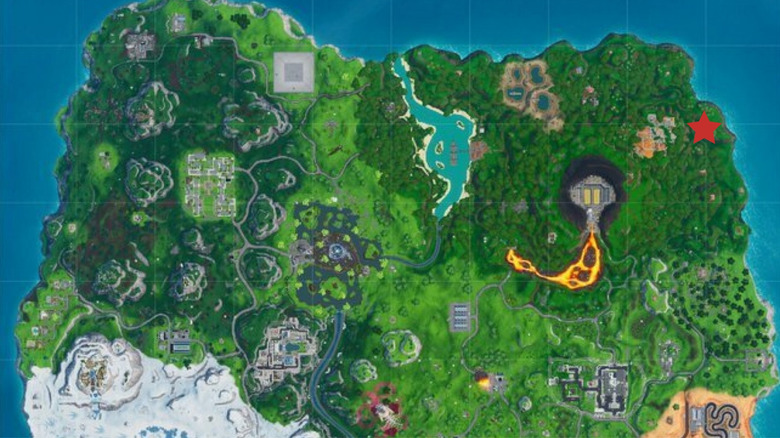 The fourth week of Fortnite Season 10 has kicked off, bringing it with it a new loading screen and hidden Battle Star to collect. Like the previous weeks, you must complete three limited-time challenges to collect your reward, along with the information you need to locate it.
Advertisement
Week 4's loading screen showcases the destructive capabilities of the new Junk Rift item. Added in the Fortnite version 10.10 content update primarily as a method for countering the hated B.R.U.T.E Mechs, the Junk Rift opens a portal above the map, raining down objects on unsuspecting opponents caught in the drop zone. Unlock the loading screen by completing three of the following challenges from the Junk Storm mission set before Thursday, August 29:
Consume Glitched Foraged Items (5)
Play Arena matches (3)
Scoped Weapon Eliminations (2)
Deal Headshot damage to opponents (500)
Search a Chest in different Named Locations in a single match (3)
Land at Pressure Plant or Happy Hamlet in different matches (3)
Deal damage to opponent's structures (1,000)
Once you've unlocked the loading screen, you can spot the Battle Star clue on a rock or box near the unfortunate gentleman about to be crushed by a triceratops. The inscription displays the coordinates "I2, I3, J2, and J3." Like week 1, you'll find the Battle Star at the intersection of these four squares on the map. Here, the coordinates point to a patch of dirt on a hill to the northeast of Sunny Steps.
Advertisement
You should have an easy time collecting your prize as the week 4 location is not a favorite landing spot. The minimal loot and farming potential keeps traffic low, with players only passing through for special events. To stay in the game, your best bet is to head to Sunny Steps after achieving your goal to grab some gear.