You Can Now Have Your Very Own Teenage Mutant Ninja Turtles Arcade Machine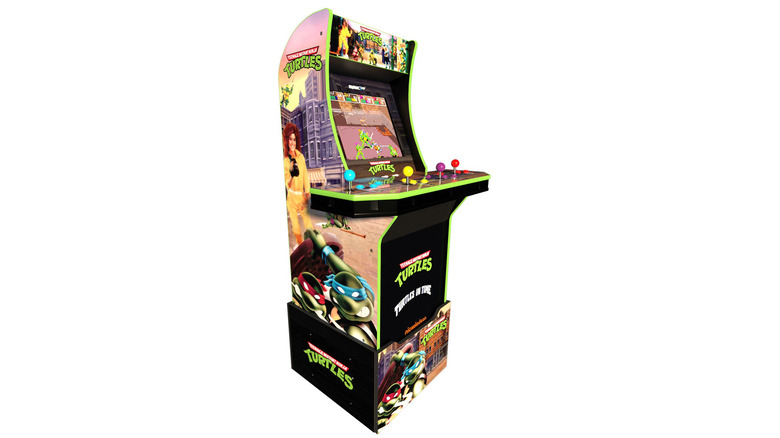 Old-school arcade machines aren't easy to come by, and they're expensive to boot. We imagine you'd have a tough time finding a Teenage Mutant Ninja Turtles cabinet that didn't cost an arm and a leg. Fortunately, there's Walmart.
The store that seems to have everything carries a line of Arcade1UP arcade machines, which are styled like classic machines yet sit on risers and are much easier to transport. And as of today, a Teenage Mutant Ninja Turtles machine is up for pre-order, which means that childhood dream of owning a TMNT arcade cabinet can finally come true.
What's the game, you ask? Judging by the cabinet art, you'll be getting Turtles in Time, though the Walmart description is about as bare bones as it can possibly be. There's a possibility other games could be included. Or it could just be Turtles in Time. We're really not sure.
But we're hoping it's more, because wow, will you ever have to pony up some cash for this thing. Walmart is selling the Teenage Mutant Ninja Turtles arcade machine for $399.99. And while it's awesome looking and would totally make your game room, $399.99 can get you a PlayStation 4 Pro or an Xbox One X (depending on the sales). So if you have a spare $400 lying around, you'll ultimately have to decide what's important to you: this gorgeous bit of nostalgia or a smaller machine that can play thousands of games in 4K.
According to the Walmart website, you can have the TMNT arcade machine delivered or ready for pick-up at a store on Nov. 22, 2019. That should give you some time to figure things out. Oh, and not to send you down the rabbit hole, but Walmart also carries cabinets for Mortal Kombat, Street Fighter 2, and Pac-Man. Just in case the Turtles aren't your cup of tea.
Update: According to IGN, this machine was present at E3 2019 and will contain both the 1989 TMNT arcade game *and* Turtles in Time. COOL.