Fortnite Season 10 Week 5 Battle Star Location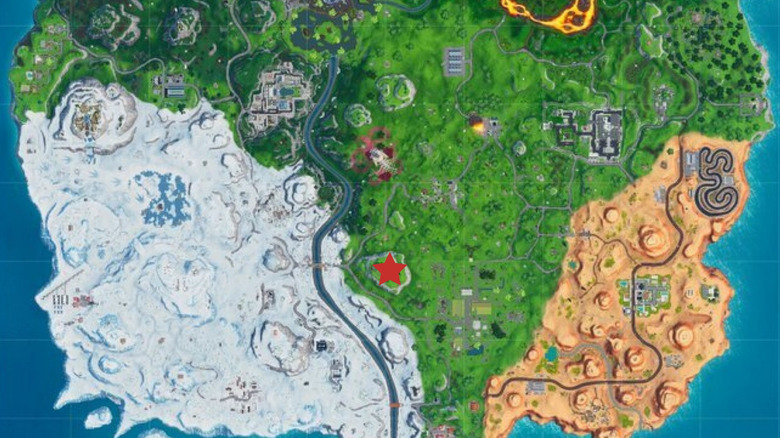 Fortnite Season 10 continues to soldier on, bringing with it a new set of daily challenges and a hidden Battle Star for week 5. 
For those new to the process, by completing three of the limited-time challenges you'll unlock a loading screen which contains a clue that will lead you to the location of that week's Battle Star. Collecting the Battle Star will reward you with a free Battle Pass tier. Unlock the week 5 loading screen by completing three of the following challenges from the Catastrophic mission set before Thursday, September 5:
Deal damage with Pickaxes to opponents (100)
Eliminations from at least 50 meters away (3)
Use trap slot items in different matches (3)
Place Top 5 in Duos or Squads Matches (3)
Deal damage to opponents from above (500)
Visit Lonely Lodge and Lazy Lagoon in the same match (2)
Search Chests at Shifty Shafts or Haunted Hills (7)
Week 5's loading screen shows three Fortnite characters lounging inside a back-lit biohazard sign. A glowing, presumably radioactive liquid drips from the symbol, with the toxic stream on the left side hiding the coordinates for the Battle Star location. If you zoom in on the image, you can make out the following sequence: " E78 and F78." This corresponds to "E7, E8, F7, and F8" on the map.
The coordinates will take you to a house on a hill to the northwest of Fatal Fields. A popular landing spot that has survived several Fortnite seasons, you've probably visited this area in previous matches. To collect the Battle Star, look for a patch of dirt in the yard. Your reward will appear when you hit the right spot. As usual, you cannot claim week 5's Battle Star until the third daily challenge unlocks on Saturday, August 31. Climbing the Battle Pass tiers has grown more difficult, so snagging each week's free Battle Star is well worth your time.