Killer Queen Black Zips Onto Nintendo Switch And PC This October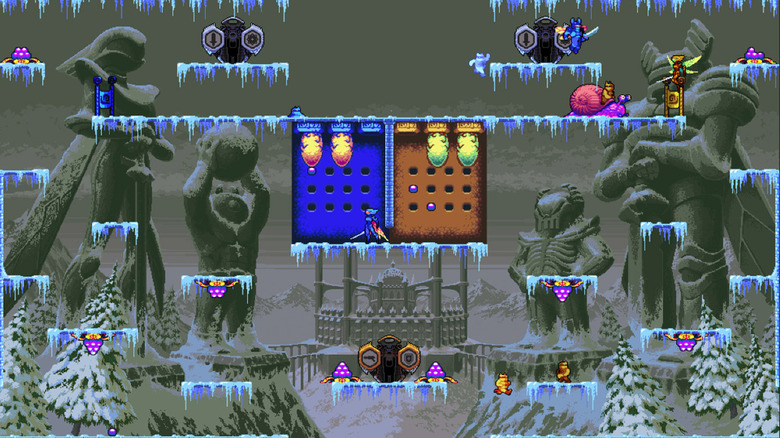 When is Killer Queen Black coming out? That's a question a lot of Nintendo Switch owners have been asking since the game first showed up in Nintendo's E3 2018 Direct. Finally, at long last, we have a release date to share. And good news for PC gamers: KQB will launch simultaneously on both Switch and PC.
Advertisement
Fans of the cult hit arcade game can look forward to downloading it on Oct. 11, 2019 for the low, low price of $19.99. Even better: those on Nintendo Switch can actually pre-purchase Killer Queen Black right now for just $16.99. The Switch also has a physical edition of the title in the works that'll arrive on Oct. 25, will be priced at $29.99, and will include exclusive controller skins. And did we mention the cross-play? Because that is such a big, awesome deal. Killer Queen Black will support full cross-play between Nintendo Switch and PC.
Oh, and when the Xbox One version of Killer Queen Black comes along (on a date we've yet to learn), that'll support cross-play with Switch and PC, too.
Advertisement
The arrival of Killer Queen on PC and home consoles is a long time coming. The game has become somewhat of an institution at arcades, though if you happen to be located in an area without a KQ cabinet, you've been missing out all this time. Black will scale the original ten-player experience down to eight, but the strategy and platforming elements present in the arcade version seem very much intact, which should make for some fun, frantic times regardless of where you're playing.
There's no doubt, though, that the best experience will probably be eight players gathered around two Nintendo Switch consoles, Joy-Cons in hand, barking out orders to one another. That's about as close to the arcade experience as those at home will get, and we're incredibly eager to try it out for ourselves.
Killer Queen Black comes to PC and Switch on Oct. 11. There's no word yet on the Xbox One version's release date.