Walmart Is Selling A 'Recertified' Xbox One X For $300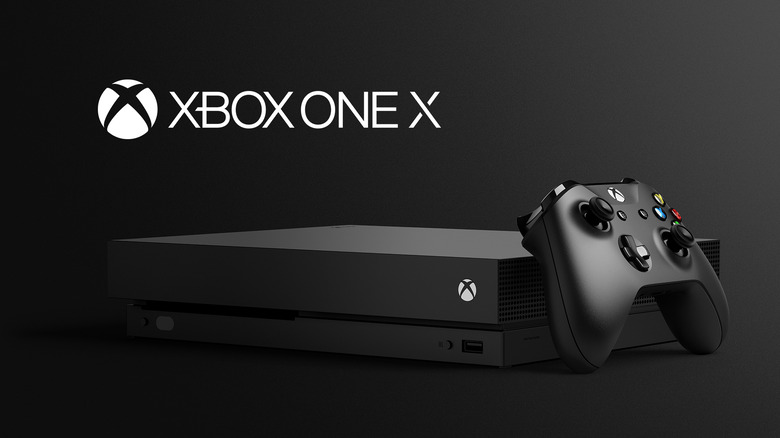 Hey, we know the Xbox One didn't exactly blow us away with exclusives this generation. That doesn't change the fact that the Xbox One X is, at this moment in time, the most powerful home console there is. It outperforms the PlayStation 4 Pro in a host of third-party titles, and today, you can have one of your very own for just $300.
Walmart is selling what it calls "recertified" Xbox One X consoles at $299.99, and normally, we'd look at something like this and wave it off. But this sale is different: these systems are being sold directly by Walmart, which means you'll get quick shipping when possible as well as Walmart's own warranty coverage for recertified products. And if you happen to have some Walmart gift cards lying around, you can toss them in toward this Xbox One X and pay even less out of pocket.
It's totally understandable that you might want to hold off. We have to be near the end of this generation, right? The problem is, there are still very good games coming out all the time. Control just dropped toward the end of August to remind us that our base Xbox Ones and PlayStation 4s aren't worthy of it. Gears 5 managed to get its campaign running at 60 frames per second on the Xbox One X (which isn't a perk you'll get on the base Xbox One). And think about what's coming: Destiny 2: Shadowkeep, Call of Duty: Modern Warfare, Star Wars Jedi: Fallen Order, and more. These are going to push our poor little consoles to the brink.
An Xbox One X will at least give you some breathing room for another year or two.
How long is this going to last? We honestly have no idea. Walmart could keep selling refurbished consoles for a while, or this could just be a limited time thing. The price especially might not stick around forever. If you've been thinking at all about buying an Xbox One X, this deal from Walmart is definitely worth considering.