Fortnite Season 10 Storm Racers Mission Challenges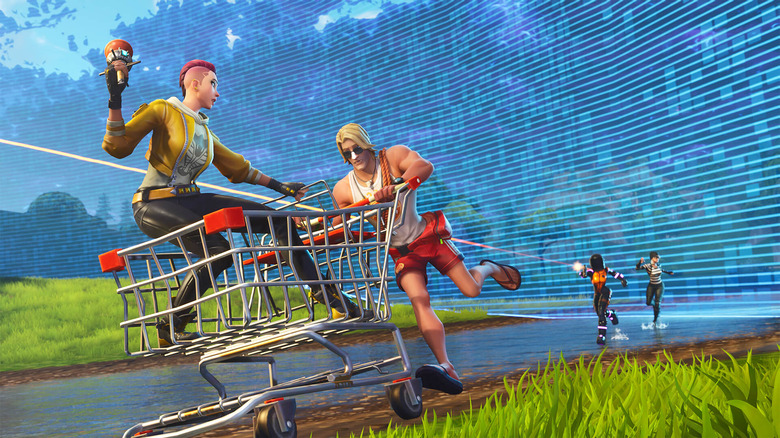 It's Thursday once more, and like clockwork, Epic Games has dropped a brand-new Battle Pass mission into Fortnite. This week's mission is called Storm Chasers, and true to the name (as they so often are), it'll have you knocking out a bunch of storm-related activities in order to level up your Battle Pass and earn that sweet, sweet, loot.
Here are the mission challenges Epic has put in front of you this week.
Normal Mission Challenges:
Gain health in the Storm (100)
Complete a lap of a race track
Survive Storm phases (10)
Visit the center of a storm circle
Land on Polar Peak, a Volcano, and a hilltop with a circle of trees
Dance at different telescopes
Prestige Mission Challenges:
Damage an opponent in the Storm
Damage gliding opponents (100)
Deal damage to opponents after the first circle closes (500)
Deal any amount of fall damage to an opponent
Complete a time trial North of Lucky Landing or East of Snobby Shores
Dance at different telescopes in a single match (2)
If you're having trouble figuring out where certain points of interest are located, be sure to check out this handy graphic made by the folks at r/FortniteBR. It should get you moving in the right direction.
And what do you receive for meeting all of the requirements listed above? There are 50 Battle Stars at stake, as well as 10,000 experience points, a Pixel Blast spray, an Eternal Voyager (Cerulean) epic style, and our favorite of the bunch: the Gameplan back bling, which is designed to look like a portable game console.
These mission challenges are available right now inside Fortnite, and as always, they'll continue to remain available even as new mission challenges come online in the weeks to come. So if you can't get to them now, don't fret: they'll still be waiting for you when you have the time.
Be sure to check back next week for an updated list of Fortnite Battle Pass mission objectives.