KFC's Colonel Sanders Dating Sim Now Available On Steam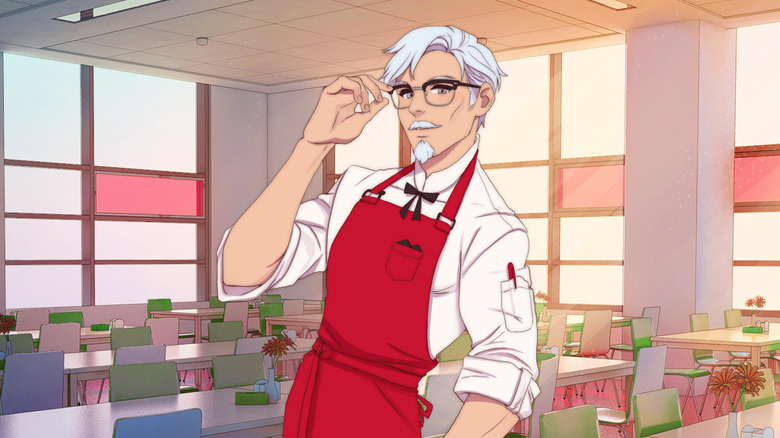 Whatever you had planned for the morning, scrap it. Light some candles. Turn on some smooth jazz. Buy a bucket of chicken. KFC's dating sim, I Love You, Colonel Sanders! just launched on Steam, and it's free to download and play at this very moment.
Actually, forget most of that. You might even want to forget the part where you download the game, too.
We honestly weren't sure what to make of KFC's video game venture a few weeks back, and we'll have to withhold our full and current judgment until we actually get to spend some time with it ourselves. But it certainly looks like this game is about what we expected: a play on the dating sim genre that does more to poke fun at some of its stereotypes than offer a real dating sim experience. Everything seems centered around the Colonel and chicken. We've seen some dialogue that looks as spoofy as anything. And the game is free, which pretty much screams "this is going to be a low-quality advertisement in game form."
Case in point: the folks at Kotaku actually reviewed this game (bless their hearts). And they listed off a few things they didn't like about it, such as: it was full of "shallow writing"; it was "unfunny"; and the reviewer felt that it wanted them to "buy fried chicken."
Still, if you have a curious mind and you want to see what happens when the marketing budget of a fast food restaurant chain becomes too large, I Love You, Colonel Sanders! might be worth checking out. Kotaku writes that the game takes around one-and-a-half hours to complete, which means you can knock it out fairly quickly if you have some downtime (and a PC nearby). But we wouldn't recommend doing so on an empty stomach. After all, this game features a lot of chicken, and it's made by a company that would love for you to buy some.
I Love You, Colonel Sanders! A Finger Lickin' Good Dating Simulator (that's the real, full title) is available now on PC.