Fortnite Season 10 Week 9 Battle Star Location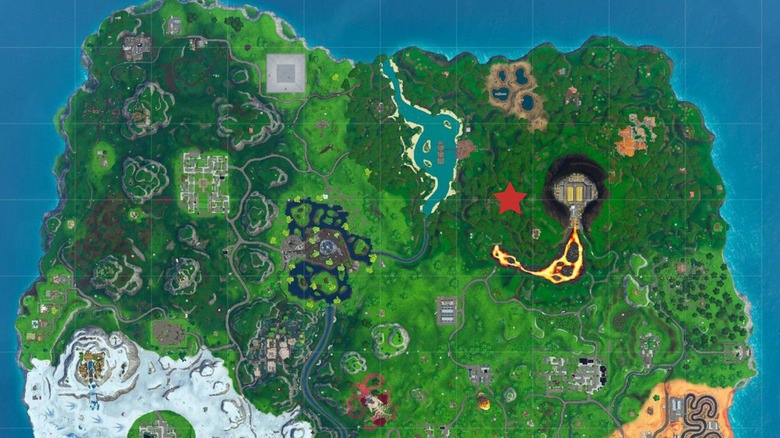 Fortnite Season 10 Week 9 has arrived, ushering in a new limited-time mission to complete, loading screen to unlock, and Hidden Battle star to collect. Here's everything you to need to know about uncovering this week's location.
To unlock the loading screen and find the clue, you'll first need to complete three limited-time challenges from the Ready or Not mission set:
Search Supply Drops (3)
SMG Eliminations (5)
Land at Polar Peak or Moisty Palms in different matches (3)
Deal damage with Sniper Rifles to opponents (500)
Gain health (250)
Search Chests in a single match (5)
Visit Dusty Depot and Pleasant Park in the same match (2)
This week's loading screen shows some players in front of a building labelled "The Combine." The Combine is a new playlist that launched with the Fortnite v.10.40 Patch. The playlist was designed to help Fortnite users acclimate themselves to the new sensitivity and aim assist settings on controllers. You're encouraged to reach the end as quickly as possible while eliminating opponents along the way. As a reminder, though the Ready or Not mission goes live today, you will not be able to unlock the loading screen until Epic releases the third challenge on Saturday, October 28.
You can spot the Battle Star hint at the top of the image above the archway. The graffiti, which shows Tomatohead sporting a crown, points to the massive Tomatohead statue located to the west of Pressure Plant. As the Battle Star spawns on top of the statue's head, you'll either need to land there when jumping from the Battle Bus or visit later in the match and build your way up to grab your prize.
In addition to the Battle Star and loading screen, you'll receive the following rewards for completing the Ready or Not limited-time mission:
1 objective completed – 10 Battle Stars
2 objectives completed – 500 Season XP
3 objectives completed – Ready or Not Loading Screen
4 objectives completed – 10 Battle Stars
5 objectives completed – 1,000 Season XP
6 objectives completed – 10 Battle Stars
7 (All) objectives completed – 2,000 Season XP