Is This Our First Look At Sony's New PSVR?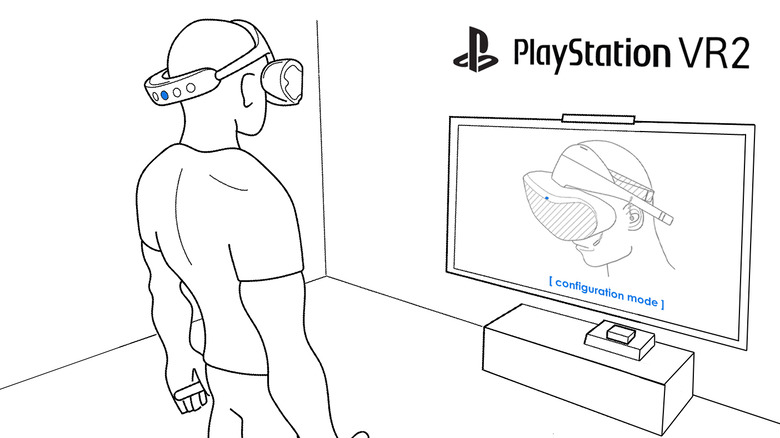 Let's Go Digital
We recently found out, straight from the horse's mouth, about Sony's plans for the long-rumored PlayStation 5. Amidst all the excitement about release windows and hardware, however, Sony didn't have much to say about next steps when it comes to the world of virtual reality.
It was confirmed a few months back that Sony's current iteration of the PSVR would be compatible with the new PlayStation 5. Now a new patent suggests that Sony may also be developing a sequel system to the PSVR alongside the PlayStation 5.
Let'sGoDigital dug up a Sony patent depicting a whole new headset featuring a  lot of cameras, a potentially wireless setup, and new motion controllers. This patent, which has actually been around since February, seems to be making the most of cutting edge VR tech, taking cues from the Oculus Quest.
Like the Quest, this new and improved PlayStation VR could allow for users to view their surroundings via a transparent mode, utilizing cameras covering the exterior of the headset. And these cameras could also lead to support for AR games alongside VR games.
Also similar to the Quest, players wouldn't be shackled to a tangled line of wires because the system would utilize Bluetooth. And there's even evidence of a camera in the controller, which could make motion tracking and identifying the location of those controllers in space a little easier for the VR system as a whole.
Until Sony gives any official confirmation, we can only speculate as to when and how we'll see the next iteration of the PSVR. Is this patent the next-gen of PSVR? Will it launch alongside the PlayStation 5? Will the next-gen PSVR controllers feature give that "distinct — and surprisingly immersive — tactile experiences" Sony evangelized about the next-gen DualShock controllers? We'll have to wait, and hope, and maybe dig up more patents before we find out for sure.