Pokemon GO's Halloween Event Starts This Thursday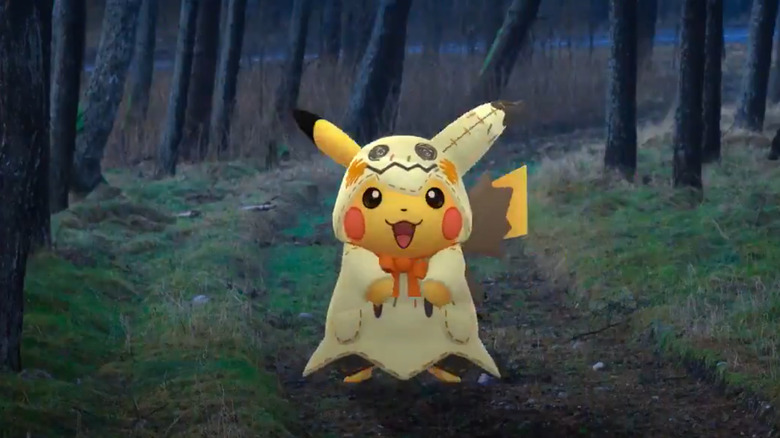 Say what you will about Pokemon GO and its success over the past few years, but the one area the game has nailed is special events. Like the upcoming Halloween event, for example: look at that Pikachu! You may not even play Pokemon GO, but a Pikachu in a Halloween costume may have you second-guessing that decision.
That dressed-up Pikachu — and many other Halloween-themed Pokemon — are part of the newest event coming to Pokemon GO this Thursday, Oct. 17. The event is a celebration of the spookiest holiday of the year, complete with some of your favorite little monsters all decked out to mark the occasion (along with a few other surprises).
The #PokemonGOHalloween announcement is here! Expect:
🎃 Double Candy rewards
🎃 Pokémon like Duskull and Yamask
🎃 Thrilling new avatar items
🎃 A spooky Special Research
🎃 Raids featuring Darkrai, and Pokémon wearing costumes!https://t.co/Ipv31kko3H pic.twitter.com/8Y70ZrnxPg

— Pokémon GO (@PokemonGoApp) October 14, 2019
According to Niantic, there's quite a bit to look forward to when Halloween comes to Pokemon GO in just a few days' time. For instance, you'll get the opportunity to rescue some other Shadow Pokemon types from those evil folks in Team GO Rocket. Your avatar will have some new Halloween styles to try on, which won't make you any better at catching Pokemon but will make you more festive in the moment. Ghost and Dark-type Pokemon — namely Murkrow and Yamask — will be appearing during the event.
And the best part — let's be real, this is the best part — some Pokemon will be wearing Halloween costumes. Have you ever wanted to see a Charmander dressed up as a Cubone, or a Pikachu costumed as a Mimikyu? Pokemon GO's Halloween event is going to make this glorious concept a reality, and thank goodness.
The Halloween event inside Pokemon GO is set to wrap up on Friday, Nov. 1 at 1 p.m. PT, which is just after Halloween itself comes to an end. We'll be busting our phones out for a chance at seeing a Bulbasaur in full Shedinja cosplay, so if we happen to discover anything else of interesting during the event, we'll be sure to let you know about it.