Blizzard Finally Bans American University Hearthstone Team For Its Hong Kong Protest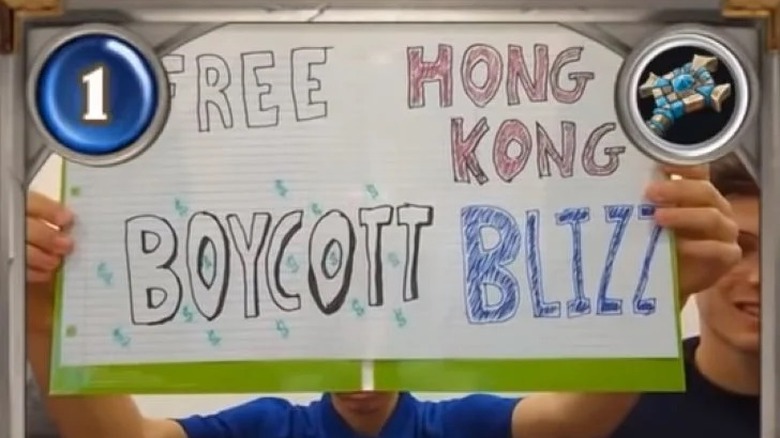 It took over a week, but it appears Blizzard is finally ready to enforce its rules regarding protest a little more fairly across the board. Early this morning, we learned that American University's Hearthstone team has officially been banned from competition, due to its protest in support of Hong Kong last week.
"This is a notification that your conduct on the official broadcast for The Collegiate Hearthstone Championship on Tuesday, October 8, 2019 violated rule 7.1B [...] of the Hearthstone Collegiate Championship Fall 2019 Official Rules [...]" read an email sent to American University player Xcelsior. The email wrapped up by stating that, "Every Voice Matters at Blizzard [...] However, the official broadcast needs to be about the game and the competition, and to be a place where all are welcome."
Happy to announce the AU Hearthstone team received a six month ban from competition. While delayed I appreciate all players being treated equally and no one being above the rules. pic.twitter.com/mZStoF0e0t

— Casey Chambers (@Xcelsior_hs) October 16, 2019
The Hearthstone squad at American University protested during the event both in solidarity with Hong Kong and against Blizzard for the actions the company took against pro player Blitzchung. You might recall, Blitzchung protested in favor of a democratic Hong Kong after winning a match during the 2019 Hearthstone Grandmasters Event, and was subsequently stripped of his winnings and banned for one year. Blizzard caved on that after some backlash, granting Blitzchung his winnings and reducing his suspension to six months. But strangely, the company took no action against the American University Hearthstone team for its protest, though it happened just a few days later.
Now it has.
"While delayed I appreciate all players being treated equally and no one being above the rules," Xcelsior wrote on Twitter.
Is this going to help Blizzard even a little bit? Probably not. In this case, late is not better than never, as the span of time in between the infraction and the suspension definitely makes it appear as though the company was quick to silence a player from Hong Kong, yet wasn't as concerned about Americans voicing the same message.
And despite Blizzard reducing Blitzchung's suspension and giving him his prize money back, this controversy has not showed any signs of fading. It's poised to follow the company right into BlizzCon 2019, which starts on Nov. 1. Speaking strictly from a public relations perspective, that is not good. In fact, things could get very ugly if protests occur in and around the event.
We'll keep an eye on things as we move toward the start date for BlizzCon. If Blizzard offers up any other statements, or another other protests take place, we'll fill you in.