Fortnite: Chapter 2 Forged In Slurp Mission Challenges, Hidden 'R' Location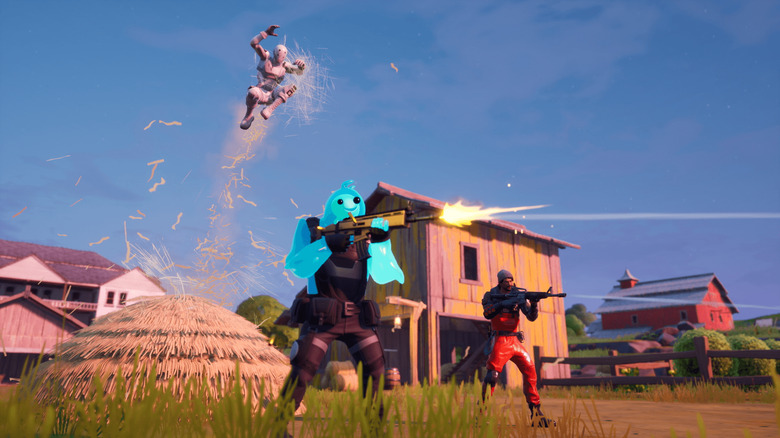 Fortnite: Chapter 2 has now been out for over a week, believe it or not, and it seems the game has settled into a routine. We'll get new missions and challenges on Thursday (as usual), and we'll be able to earn new rewards by completing the various challenges the game puts forward.
This week's mission is called Forged in Slurp, so without further ado, let's check out what the game wants us to accomplish.
Search Chests at Slurpy Swamp or Retail Row (7)
Eliminate opponents with a weapon of each rarity (5)
Upgrade an item at a Weapon Upgrade Bench (3)
Dance at Compact Cars, Lockie's Lighthouse, and a Weather Station
Deal damage with Common weapons (500)
Mark an Uncommon, Rare, and Epic item
Eliminate opponents at E.G.O outposts or Retail Row
Search Ammo boxes at landmarks (7)
Search Supply Drops in different matches (3)
Deal damage with Legendary weapons (250)
Search for the hidden "R" found in the New World Loading Screen
If you need a bit of help locating the points of interest referenced in the challenges, fear not: the folks at r/FortniteBR have come through once more, putting together an amazingly helpful cheat sheet that not only includes the challenges you'll need to complete, but also marks important locations on the map.
Now, how about that hidden "R" on the map? It just so happens that the location of the "R" fits rather well with the name of this week's challenge, as you'll be able to find it near Slurpy Swamp. YouTuber Bodil40 got a video up for the challenge remarkably quickly, which means that instead of trying to guide you to the correct location with words, we can simply let Bodil40 show you.
One important note: you'll need to have unlocked the hidden "R" portion of the mission before you're able to actually find the letter. If you skip straight toward trying to complete that challenge, the letter won't materialize and you won't be able to find it.
As for what you're getting for all of your hard work, it seems there is a bit of uncertainty around this week's XP rewards. The game shows that you'll get 14,000 XP per completed mission challenge. But many on Reddit seem to believe the game is actually awarding 52,000 XP per challenge, which is obviously a lot more. This is something we'll definitely be keeping an eye on.
In the meantime, you now have this week's Forged in Slurp mission challenges and the hidden "R" location. Go play some Fortnite.