Rumor: Horizon Zero Dawn PSVR Game Could Be On The Horizon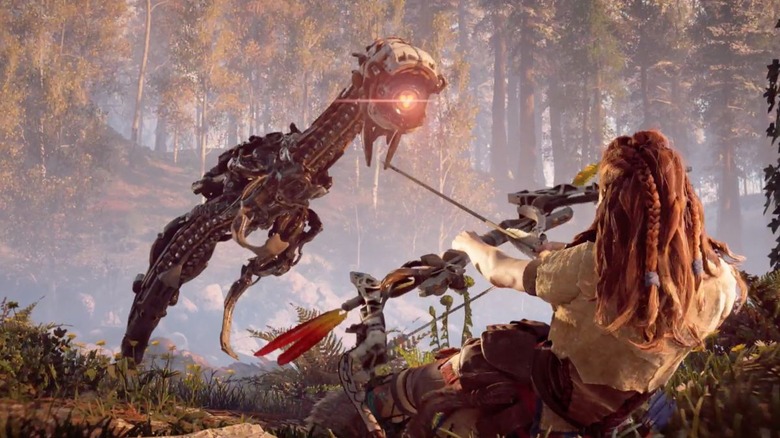 It just dawned on us: how cool would Horizon Zero Dawn be in VR? We're not the only ones mulling over this idea, apparently. Rumor has it that developers London Studio could be adapting the game for the PSVR, if Callum Hurley's cryptic tweet is to be believed.
Advertisement
The tweet in question said, "Was recently made aware of a very exciting new PlayStation VR game coming out of London Studio. Not sure whether it'll be for PS4, PS5 or both, but it's really exciting, and an announcement could be on the Horizon..." That's some interesting capitalization there, Callum.
Hurley is a VR specialist who has formerly had positions at Oculus. VR is his thing, and it would make sense that his connections might clue him into the biggest developments happening behind closed curtains in the VR world. Hurley hasn't been able to offer up any other information; he's just posting gifs of people shrugging in response to his follower's questions. 
So let's break down the rest of this tweet: London Studios is Sony's in-house VR developer, and the team behind Playstation VR: Worlds, the system's launch title that served as a gateway into the world of virtual reality for many a novice. This year, London released Blood & Truth, a first-person VR shooter that received favorable reviews for its stunning visuals. Perhaps shooting arrows at giant, mechanical beasts is the next big project for London Studio? 
Advertisement
There's no official information regarding this rumor, but we do know that Sony is looking to improve upon its current VR system. Earlier this month, we reported on leaked patents that seemed to indicate that a new PSVR system is in the works. The patent appears to have taken a lot of cues from the Oculus Rift, optimizing for mobility and enhanced controls via a slew of cameras and a distinct lack of wires weighing you down. This would make running around as Aloy all the better. 
We know that the current PSVR will be compatible with the upcoming Playstation 5. We don't know if a VR version of Horizon Zero Dawn will come to the current iteration of PSVR or this fabled next-gen headset. Ultimately, we don't know if it will happen at all, but we've got our fingers crossed.