Grand Theft Auto Online Goes Extraterrestrial For Halloween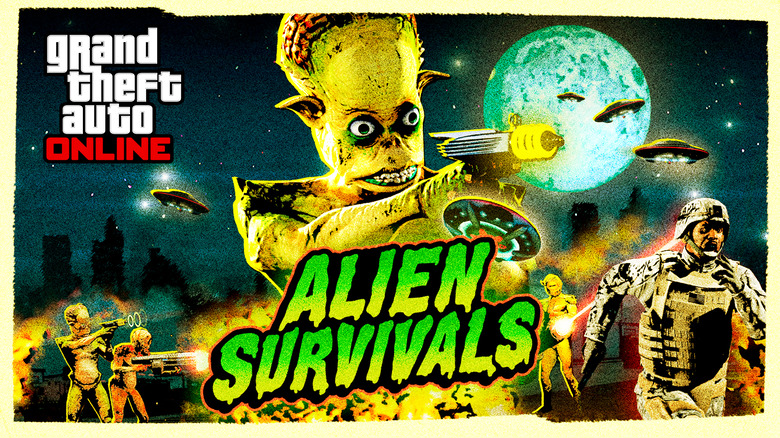 Grand Theft Auto Online has unveiled an out-of-this-world experience for this year's Halloween, including an alien-themed Survival Series and lots of discounts, bonuses, and benefits.
In the new Alien Survival Series, you'll uncover the truth of the long-rumored secret government program known as Project 4808. In a refreshing twist, you'll play as an extraterrestrial tasked with fighting off wave after wave of heavily armed NOOSE teams, FIB agents and the Marines across seven maps. As if that weren't cool enough, all Alien Survivals come with Double Rewards this week.
Things have gotten interesting in Blaine County. In addition to seasonal decorations and exclusive Casino Store items at The Diamond, you'll find Peyote growing wild in the arid soils surrounding Mt. Chiliad. Authorities advise against eating the cacti. We suggest doing the opposite. What's the worst that can happen?
Rockstar is offering Double GTA$ and RP from October 31 through November 6 when you check out GTA Online's grisliest game modes: Slasher, Slashers, Lost vs. Damned, Condemned, Come Out to Play and Beast vs. Slasher. Goodies from previous Halloween celebrations, such as Halloween Masks, the Lurcher Hearse, and Fränken Stange have also re-appeared and can be purchased at a 35% discount. A variety of other vehicles and laser-powered weaponry are also on sale.
Head to The Diamond Casino & Resort to give the Lucky Wheel a spin. This week's top prize is the LCC Sanctus – a "Goth chopper fitted with glowing red headlights that accelerates like a bat out of hell." You can also pick up seasonal Sculptures, Wall Art and Masks at the Casino Store.
Finally, you can collect both the Choose Your Side Tee and Invade and Persuade Hero Tee by playing GTA Online anytime between October 31 and November 6. Twitch Prime members who have linked their Twitch and Rockstar Games Social Club can also take advantage of additional bonuses this week, including 80% off the Weaponized Tampa and 85% off the Brute Armored Boxville.