Apple And Valve Could Be Working On An AR Headset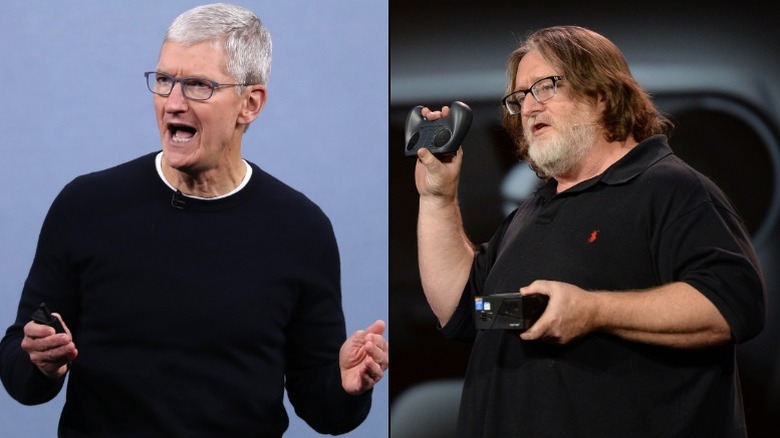 Justin Sullivan/Getty Images
Augmented reality may not be as widely discussed as virtual reality, but several companies are still interested in the tech. You can now add Apple and Valve to the list, as it appears the two companies may be collaborating on an AR headset set to arrive in 2020.
A report from DigiTimes (by way of PC Gamer) speaks of an AR headset project inside Apple that was thought to be canceled. It turns out, however, that the project was never actually killed off. According to the report, Apple decided to team with Valve instead of going it alone. And that could be a wise move, considering Valve has some experience creating similar VR hardware.
The tag-team effort is interesting for a number of reasons. On the gaming side, we're just naturally intrigued by anything Valve decides to take part in, as the company — until the release of the Valve Index recently — has largely been running the Steam store and not doing much else. There's a chance we could see some Valve properties show up on the Apple/Valve AR headset (just as we could with the Index), and that's a pretty exciting prospect. Who wouldn't want to play some AR Portal?
And on the tech side, Apple is fairly stellar when it comes to making technology accessible. The geeks among us may complain (loudly) when Apple devices get certain smartphone or tablet features a year or two after competing products. But it's tough to deny that Apple winds up offering some of the better implementations. An AR headset co-developed by Apple would undoubtedly be one of the easier ones to use, and that could open augmented reality up to a wider audience.
When will we officially hear about this product? That remains to be seen. It could happen at the next big Apple event (which has yet to be scheduled), or perhaps sometime later in 2020. As soon as we hear more, we'll let you know.