Payday 2: Silk Road Update Will Add Free And Paid Content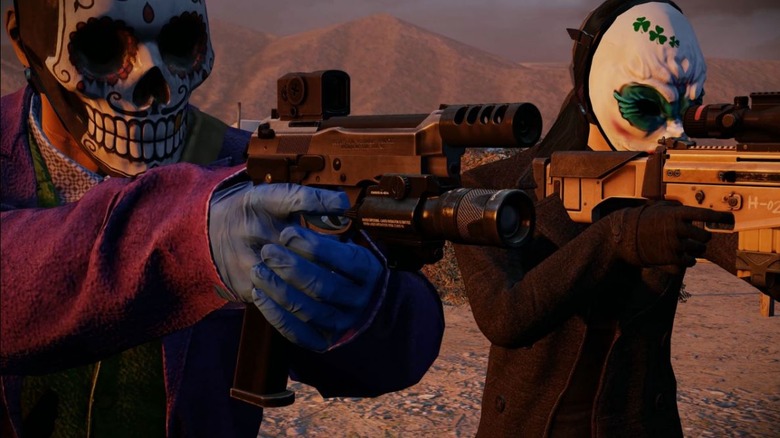 As promised, developer Starbreeze has shared more information about the upcoming Payday 2: Silk Road update. The selection of free and paid features will mark the first Payday 2 content to roll out since development ceased at the end of 2018.
All players will receive access to the new outfits system, allowing you to select the clothing and mask worn by your character when pursuing your next big score. Six free outfits, including the Tactical BDU, Scrubs, and Tuxedo, will debut in the Silk Road update. You can purchase the Tailor Pack 1 DLC to unlock four additional suits, each with five color variations. 
Free Outfits
Tactical BDU
Raincoat
Scrubs
Winter Camo Parka
Tuxedo
Murkywater Uniform
DLC Outfits
The Showman
The Casual Formal
The Sunny Rico
The Classic
For those criminals more interested in firepower than flash, there's also a Cartel Optics Mod Pack DLC up for grabs. The pack includes ten new weapon mods centered on optics and sights: three sights, two pistol sights, two optics gadgets, one grip, one compensator, and one muzzle brake.
The final piece of the puzzle is the Border Crossing Heist, which Starbreeze unveiled ahead of the other content with a shiny new trailer. In Border Crossing, you'll head to the Mexican border to take on Murkywater and the Dentist. They've been funneling money and illicit merchandise into Mexico using a secret tunnel; interrupting the operation could deal a fatal blow to the organization. You'll have the choice to play Border Crossing in both stealth and loud mode. Pre-planning options will also let you customize your tactics as the action unfolds on both sides of the U.S. and Mexican border.
Payday 2: Silk Road goes live on Thursday, November 7. For those new to the action, you can grab the base game and all the previously released DLC for $17.88 on Steam right now (that's a sweet 78% discount).