Team Ninja Celebrates Fatal Fury's Mai After Smash Bros. Snub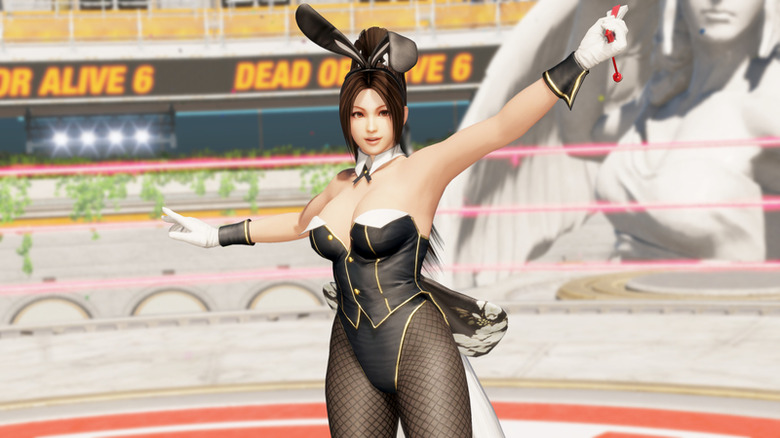 Fatal Fury's Mai Shiranui may have been too bodacious for Super Smash Bros. Ultimate, but she's just right for Team Ninja's adult-rated Dead or Alive 6. Today, the developer cheekily reminded fans that Mai is a DLC character in the game, poking fun at Sakurai's decision to exclude the alluring ninja girl from Smash Bros.
Yesterday, Fatal Fury's Terry Bogard stole the spotlight as a new fighter in Super Smash Bros. Ultimate. However, fans felt that there was something missing in this announcement: namely the female mascot of the SNK game, Mai Shiranui. Sakurai himself acknowledged this exclusion by saying, "Super Smash Bros. Ultimate is for good boys and girls of many different ages, so we decided not to feature her. Please forgive us." 
Mai doesn't exactly have a PG design, as the little clothing she wears is pretty revealing. So it makes sense that she wasn't included in a game designed for "good boys and girls of many different ages." Dead or Alive 6, however, is the perfect home for a character like Mai, the fighting game known for having bombshell babes pummel the life out of each other. The game gives a lot of attention to beautiful women in skimpy costumes who practically moan as they smack each other. So yeah, it's easy to see why Team Ninja wanted to include Mai, who is something of a sex symbol, in its game. 
In a tweet today, Team Ninja pointed out Mai is featured in its title as a DLC character, saying, "Welcome to the world of adults..." In Dead or Alive 6, Mai appears to test her might against the Mugen Tenshin clan in order to see which style of ninjutsu is truly Japan's best. Reviewers have said that, despite the risque nature of previous games, Dead or Alive 6 shows a little restraint, especially when it comes to jiggle physics. Mai is certainly sexy; too sexy for Super Smash Bros. But perhaps she's not overly sexualized in Dead or Alive 6.