This League Of Legends Jacket Costs $5,650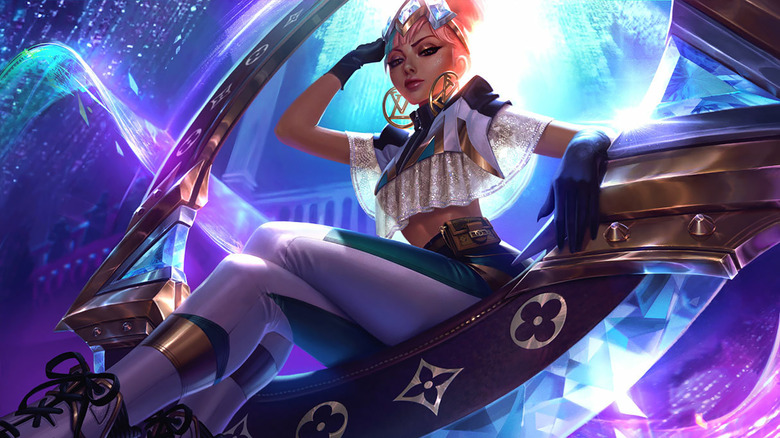 League of Legends has built a burgeoning video game empire over the past ten years. Between supporting their favorite esports team and purchasing an abundance of skins, fans have all sorts of ways to represent their favorite game. Now, Riot Games has partnered with Louis Vuitton to give players a new avenue for showing off their love of League: designer clothing.
Advertisement
The Louis Vuitton x League of Legends collection has gone live on the fashion designer's website. If you know anything about the Louis Vuitton brand, you probably have an idea of what the prices look like. If you don't, you might want to sit down. The cheapest item in the collection, a bandeau, will set you back $170. The matching leggings cost $1,140, and, if you want to complete the look, you'll need to spend another $1,140 on the matching sleeveless top. The most expensive item, a shiny leather biker jacket, costs $5,650.
According to Redditor TheSmellofPurple, it would cost roughly $4,950 to buy every skin and champion in League of Legends. They made this calculation about two years ago, incorporating roughly eight years of new champions and skins, some of the latter being exclusives for one reason or another. Keep in mind, Riot has added more skins and champions since that point, bringing the cost up even higher. In other words, you could likely buy almost every champion and skin for the cost of a single League of Legends themed Louis Vuitton biker jacket.

Advertisement
Louis Vuitton and Riot Games collaborated on the designs for True Damage, the new League of Legends hip-hop group featuring Qiyana, Akali, Ekko, Yasuo, and Senna introduced earlier this year. The Louis Vuitton x League of Legends collection draws on that aesthetic, and even features Qiyana in her True Damage guise on some of the pieces.
League of Legends is available for PC. Riot announced League of Legends: Wild Rift, an abridged version for mobile and console, earlier this year. You can expect to get your hands on the mobile version by the end of 2020.