Ninja And Adidas Will Kick Off The New Year In The Best Way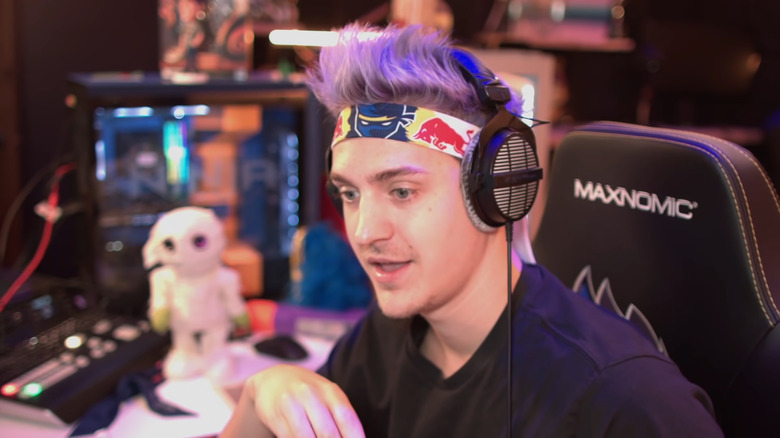 It seems like everyone's favorite blue-haired streamer can't get out of the news lately. Tyler "Ninja" Blevins, one of the world's most popular gamers, has teamed up with Adidas to sell something everyone needs: a nice pair of shoes. The Ninja x adidas line of joggers have finally come to light, and they sport the streamer's iconic color scheme.
Advertisement
On the inside of the shoes, you'll notice a couple words on them. The left shoe says "NINJA," as you might expect, while the right shoe has the phrase "TIME IN" plastered onto it. The phrase comes from a little story Ninja tells in the promotional material about how much time and effort he put in to build his successful career.
"To kick off my collaboration with adidas, I wanted to create a shoe that honors everyone who puts in the hard work to perfect their craft," Ninja said. "Everyone who knows what it's like to sacrifice for their passion. Everyone who puts the TIME IN™. Whether you're on hour 1 or 1,000 of your journey, this shoe is for you."
And yes, that trademark symbol is part of the quote.
Advertisement
The collection contains two pairs of joggers: one for adult sizes and the other for youth sizes. Aside from the obvious differences, their designs remain practically identical. The adult sneakers run for about $150, while the youth pairs cost $120. If you're interested in picking up these Ninja shoes, you don't have to wait too long. The collection launches on Dec. 31, just in time to ring in the new year.
For anyone who follows Ninja, this collaboration shouldn't come as a surprise. It was announced back in August, after all, and Ninja seems to be a pretty big fan of Adidas apparel. He even wore one of the company's hoodies in his promotional video that announced his move to Mixer.