Guess What Game Just Came To Xbox Game Pass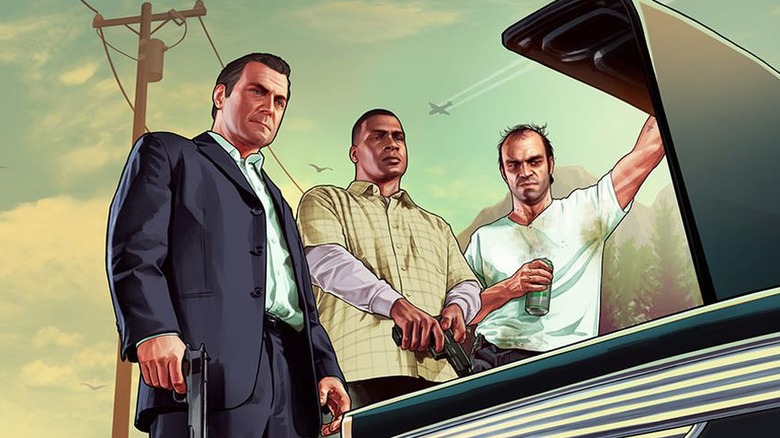 The new year has brought an all new chance to get into one of the world's most popular games. Grand Theft Auto 5, a title that just won't wear out, is now available on Xbox Game Pass. At this rate, it's only a matter of time before Grand Theft Auto 5 heads to the Nintendo eShop of all things.
If you don't want to pay the full price for Grand Theft Auto 5 then this is your chance. Game Pass costs just $1 for the first three months before that price jumps up to $9.99. Subscribers have access to not only Grand Theft Auto 5 but other AAA titles like The Witcher 3: Wild Hunt, Halo: The Master Chief Collection, and The Outer Worlds, as well as indie darlings like Untitled Goose Game. That's a whole lot of games for a relatively small price.
Shelling out additional cash for Xbox Game Pass Ultimate or Xbox Live Gold will now also let you play Grand Theft Auto Online, the ever-updating online world that has kept Los Santos fresh for all these years. Microsoft would also like to remind you that your Xbox Game Pass membership comes with "up to 10% off on any purchase of the Criminal Enterprise Starter Pack or Shark Cash Cards to fancy-up your cars, buy new real estate, or even a helicopter!"
If you've gotten tired of horses and buggies in Rockstar's Red Dead Redemption 2, then a return to Grand Theft Auto 5 might be right for you. If the rumor mill proves correct, there may just be some big Grand Theft Auto news on the way, so freshen up those bank robbing and drug-running skills. Though Rockstar hasn't made any official announcements, the internet seems to believe Grand Theft Auto 6 is currently in top secret production. Here's to hoping.