Legends Of Runeterra Goes Into Open Beta Next Week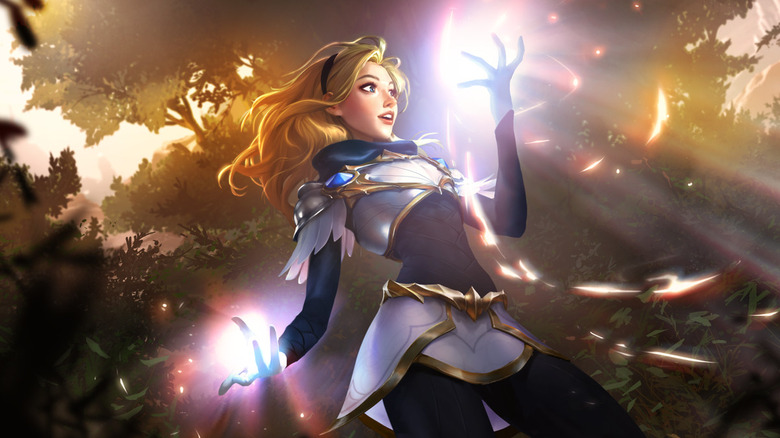 Riot has been busy. Legends of Runeterra, the League of Legends-based card game, is just the first of many new games that will soon be available. Announced late last year, the much-anticipated, free-to-play friendly card game is going into open beta on Jan. 24.
This wholly digital experience is following in the footsteps of games like Hearthstone and Gwent, basing itself in the lore of a larger game. In Legends of Runeterra, players can use cards based on some of their favorite League of Legends champions to "face off in dynamic, alternating combat full of opportunities to adapt and outplay." Riot has been perfecting this dynamic combat through an ever-evolving closed beta. Now, the game is ready for a wider audience to work out some of the bugs and try to outwit their enemies.
The open beta is open for prospective players to pre-register now. Legends of Runeterra will first be available on PC and mobile with iOS support apparently coming in sometime later — sorry iPhone users. Being over eager apparently pays off, too, as pre-registering earns you a Moonstruck Poro, one of the little fluff balls that sits to the side of the card games.
Like Gwent and Hearthstone before it, Legends of Runeterra intends on keeping things exciting by using detailed art and flashy animations that call back to the games that started it all: League of Legends. The trailer for the game shows Ashe's arrow ripping through your enemies defenses. Neat.
The open beta release is exciting news even for those lucky few who got into the closed beta, because a slew of new features are coming to Legends of Runeterra. Players will be able to challenge their friends to friendly matches via a newly added friends list, enjoy the challenge of ranked play, and check out new boards and guardians. The open beta also marks the start of Legend of Runeterra's first ranked season. Get ready for that competitive atmosphere that League of Legends is famous for. 
Open beta sign ups are hosted here on the official site. If we hear more about the game from someone, anyone who works inside Riot — perhaps someone we know — we'll be sure to fill you in.