The Sad Truth Behind Last Decade's Best-Selling Games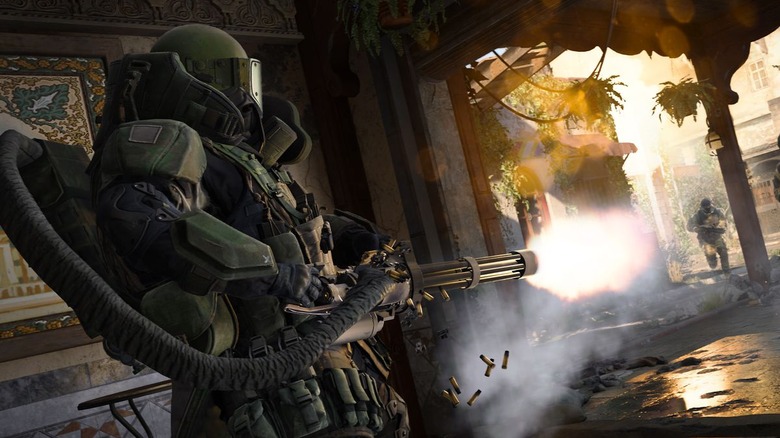 Imagine the best and brightest games of the last decade; just about every outlet has published a list of their favorite titles from the tumultuous 2010s. Games like Portal 2, Skyrim, The Last of Us, The Witcher 3, Overwatch, God of War, and Destiny have topped these lists, but none of them made it into the top ten best- selling games of the decade. One franchise has absolutely dominated this particular list: Call of Duty.
The decade's best-selling games include:
Grand Theft Auto 5
COD: Black Ops
COD: Black Ops 2
COD: Modern Warfare 3
COD: Black Ops 3
COD: Ghosts
Red Dead Redemption 2
COD: WW2
COD: Black Ops 4
Minecraft
Notice something strange? Only three games managed to financially rival Call of Duty in the last decade. Those three games are nothing short of powerhouses either. Minecraft is the second best-selling game ever, modestly positioned behind Tetris, which has had a few decades to rustle up sales and notoriety.
Then there's Red Dead Redemption 2, which set a new opening weekend sales record. Rockstar raked in $725 million over three days. It was a solid hit, despite the controversies about crunch that dogged the release of the highly anticipated sequel. Rockstar has had a ridiculously successful decade, with Grand Theft Auto 5 and Grand Theft Auto Online serving as the true bread winners.
Before shifting your attention to number one on this list, take a look at the rest: Call of Duty, Call of Duty, and still more Call of Duty. While it's impossible to deny the popularity and success of the franchise, it's still hard to believe Call of Duty games dominated the decade. Just last fall, Call of Duty: Modern Warfare brought in $600 million in its first weekend, nearly reaching the heights of Rockstar sales. It did break some notable records of its own: this new Modern Warfare represents the best-selling Call of Duty launch on PC ever, the most digitally pre-ordered game for PlayStation 4, and it was the top-selling $60 game of 2019.
Yet, it's not even on the list. Way back in 2010, Activision revealed Call of Duty: Black Ops had sold 5.6 million copies in just 24 hours, "making it the biggest entertainment launch ever." In 2012, Black Ops 2 made $500 million on its first day, blowing Modern Warfare 3's $400 million record out of the water. Year after year, Activision pushed out a new Call of Duty title and year after year players welcomed them with open arms and wallets. Black Ops 3 had moved 26.72 million units as of October 2019, and its sequel, Black Ops 4, also had strong sales... just not as strong as Activision would have liked at the time. Bummer.
Don't feel too bad for Activision. Based on these numbers, the publisher should be rolling in cash. The company has a monopoly on one of the best-selling franchises in the world, after all. The only game that threatens its supremacy is Grand Theft Auto 5, a game that has remained a US top twenty bestseller almost every month since its 2013 release and is rivaled worldwide only by the likes of Minecraft and Tetris.
So why is Call of Duty so popular? Why are players willing to repeatedly pay for games that are relatively similar to each other? Like Minecraft and Tetris, Call of Duty enjoys a huge player base. Every release attracts millions of players, from the most casual to hardcore of gamers. Call of Duty has a low skill threshold, but it turns out that the sky is the limit. Novice players can steadily hone their skills, while Call of Duty diehards enjoy a competitive atmosphere with the best of the best.
Outside of the free-to-play space, shooters like Call of Duty usually dominate yearly top earning lists, so these sales numbers don't come as too much of a surprise. It's just ... a little sad that some very influential and beloved games were pushed out by these lucrative but somewhat lackluster Call of Duty titles. When Geoff Keighley shared the top ten on Twitter, a number of disappointed comments followed: What about Super Smash Bros.? Breath of the Wild? There are only three companies represented on this list.
Just remember, this is the best-selling games in the US. Many users pointed out to Keighley that worldwide bestsellers are a little different and more diverse:
Minecraft
Grand Theft Auto 5
PlayerUnknown's Battlegrounds
The Elder Scrolls 5: Skyrim
Diablo 3 and Reaper of Souls
Mario Kart 8 / Deluxe
Terraria
Call of Duty: Modern Warfare 3
Red Dead Redemption 2
Call of Duty: Black Ops
There's only two COD games on this list. Not nearly as sad, is it? Yet, what does the disparity say about US gamers?