Xbox Game Pass Is Getting This Award-Nominated Story Very Soon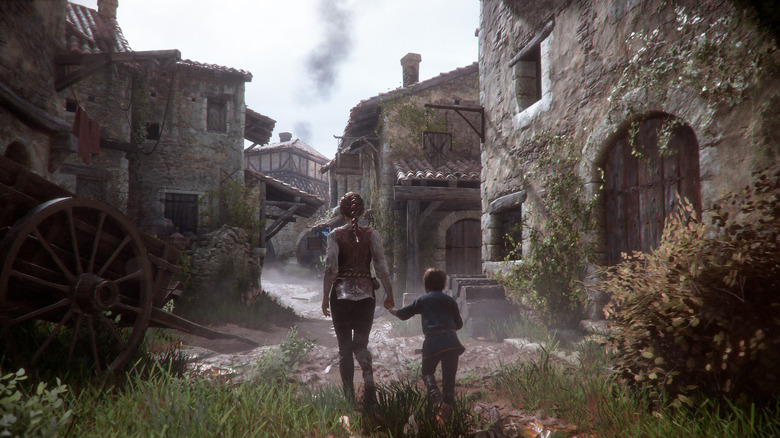 Xbox Game Pass is home to lots of games you might have been interested in but didn't want to pay for. Like A Plague Tale: Innocence, right? That one looked super cool when it released in May 2019. But — and we hate to say it — it can be tough dropping money on a one-and-done story-driven experience.
Fortunately, you'll get a chance to check out this Game Award-nominated title very soon. It's set to drop into Xbox Game Pass tomorrow on both console and PC.
Here's a taste of the game's description, straight from its Steam Store page:
"1349. The plague ravages the Kingdom of France. Amicia and her younger brother Hugo are pursued by the Inquisition through villages devastated by the disease. On their way, they will have to join forces with other children, and evade swarms of rats using fire and light. Aided only by the link that binds their fates together, they will face untold horrors in their struggle to survive. As their adventure begins... the time of innocence ends."
Sounds intriguing, right? Add the draw of its story to the fact that sites like Eurogamer heaped praise on A Plague Tale for its visuals, and you have a recipe for a fairly enjoyable ten hours of gaming. Ten hours, by the way, is the sweet spot these types of games should strive for. It's not Gone Home short. It's not Red Dead Redemption 2 long. You can beat it in one lengthy sitting if you want, but realistically, you'll probably finish it in two or three days. Perfecto.
We can't help but wonder what surprises Game Pass might have in store in the weeks and months to come. We know that a slew of Final Fantasy titles are on the way, as are games from the Yakuza series. Could we eventually see Control, a game that was mistakenly revealed by Microsoft's Phil Spencer last year? We're crossing our fingers.
For now, Game Pass subscribers will have a few other titles to play soon in addition to A Plague Tale: Innocence. Those are: Gris (PC); Scourge Bringer (PC); Indivisble (Xbox One); Fishing Sim World (Xbox One); and Sea Salt (Xbox One and PC).