The Dead Cells Prisoner's Edition Bundle Is A Fan's Dream
Motion Twin's Dead Cells is a game that inspires a lot of devotion. Not only is it visually appealing and full of varied challenges, but its very plot encourages players to keep coming back. After all, when the entire premise of a game is built around dying and resurrecting over and over again, it's kind of imperative that you stick with it to get better. That's why it's great to see that some of that dedication is being repaid in kind. 
The Dead Cells: Prisoner's Edition has just been announced by Motion Twin. If the above trailer is any indication, the Prisoner's Edition is looking like the stuff that a rabid fan's dreams are made from. In addition to the base game and the brand spanking new Bad Seed DLC (which is getting rave reviews), the Prisoner's Edition comes with all kinds of other goodies. Let's take a look at everything this new release has in store.
What comes with the Dead Cells: Prisoner's Edition?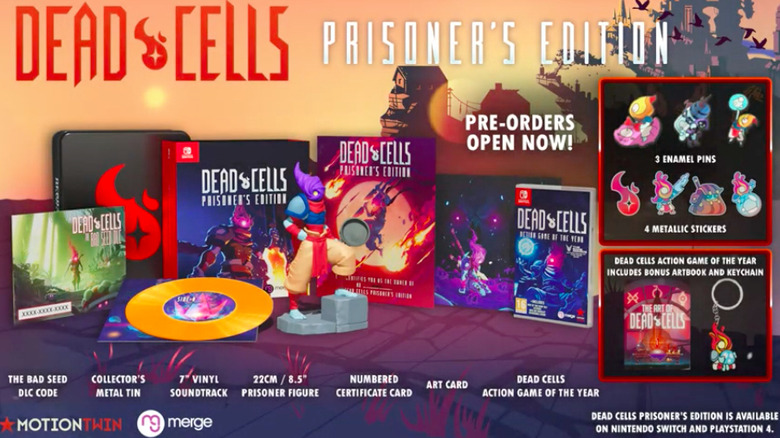 The Prisoner's Edition comes in an embossed tin case and includes a really impressive figure of the titular Prisoner, the game's protagonist. This figure stands 8.5" tall and carries the Vorpan, a melee weapon from the game resembling a frying pan.
In addition to the tin and the figurine, the Prisoner's Edition includes a 7" vinyl record that features four songs from the game, as well three collector's pins, four stickers, a key ring, and an art card. Topping it all off is The Art of Dead Cells, a book that contains concept art and character designs from the game.
Dead Cells: Prisoners Edition will be released through Signature Edition Games for PlayStation 4 and Nintendo Switch on June 30. The set is limited to 10,000 copies and the first 500 customers also get a cool collector's coin, so if you're going to snag it, you may want to preorder now — though, it'll set you back $109.99 for either platform. But that'd be money well-spent if you truly love Dead Cells – it's pretty much the ultimate goodie box for fans.