Batman Rumors Give Fans Something To Speculate About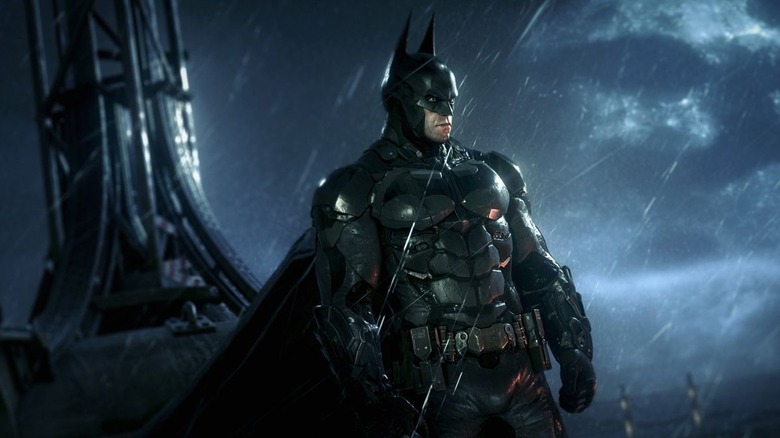 Every time there's even the slightest hint of an announcement of a new Batman game, it's a great excuse for fans to begin speculating wildly. If the latest rumors surrounding the still-unnamed Batman game from WB Montreal are to be believed, we may have plenty of new stuff to discuss in the coming months. Brand spanking new, in fact, because it appears that this new Batman game may actually be a reboot, unconnected from the monumental Batman: Arkham series.
This rumor comes to us from Twitter user Sabi (via GameRant), who has previously broken plenty of news ahead of major releases. In fact, Sabi originally leaked the fact that Keanu Reeves would be appearing in CD Projekt Red's Cyberpunk 2077. Sabi was also allegedly threatened with legal action from Nintendo last year when Sabi announced their intention to leak spoilers for a then-upcoming Nintendo Direct presentation.
"Now that I've talked to multiple people on it... the new Batman game does seem to be a reboot," wrote Sabi. "On the bright side, the Court of Owls is still a big focus, as I said before."
Interestingly, GameRant notes that Sabi's account was deleted shortly after breaking this news. Whether that means the account had truly shared something that wasn't meant to be read by the public is unclear. It could be unrelated to the Batman scoop, but it's hard to tell in this case. The timing certainly seems suspect, especially when one considers how close Sabi has come in the past to landing in hot water with various video game companies. It's almost like we need the World's Greatest Detective to sort it out for us.
Hopefully we won't have to wait too terribly long for that day. With all of WB Montreal's Batman teases over the last few months, mostly consisting of various bizarre logos and the phrase "Capture the Knight," we may know something more concrete in the very near future.
It would actually make a certain amount of sense for a rebooted Batman video game series to launch with a game centered around the Court of Owls. Back in 2011, following a line-wide reboot at DC Comics, the main Batman series was relaunched at #1 with writer Scott Snyder and Greg Capullo. Though the pair have gone on to more or less define the modern iteration of Batman comics with miniseries like Dark Nights: Metal and Batman: Last Knight on Earth, it all began here. And in the very first issue of this new era of Batman, we were introduced to none other than the Court of Owls.
Having these villains at the forefront of a reboot worked out quite well for the Dark Knight last time, so it stands to reason that the same lightning could strike twice.
Other rumors surrounding the upcoming Batman game are concerned with what characters will be involved. There are rumblings that Batman's son Damien Wayne may be involved in the story in some capacity. That would certainly make sense, as Damien served as Robin during the original Court of Owls storyline.
The reboot angle also makes a lot of sense when one considers the time when the game would probably be making its debut. After all, we're about to see a very different kind of Batman reboot on the big screen. Filmmaker Matt Reeves is currently hard at work on The Batman, a new iteration of the character starring Robert Pattinson as the Dark Knight. The movie aims to redefine several classic characters, with Zoë Kravitz costarring as Selina Kyle/Catwoman and Paul Dano as the Riddler. If Hollywood is gearing up for a new take on Batman, then maybe it's time for the video game industry to follow suit.
Also, to be perfectly frank, the finale of Batman: Arkham Knight didn't quite leave a ton of wiggle room for the continuing adventures of that iteration of the Caped Crusader. If that series were to continue, it would have to be a prequel of some kind, or a sequel that bore little resemblance to the games that came before.
Rebooting the series should give the game the narrative breathing room it needs, while also leaning on the tried and true gameplay mechanics that made the Arkham series such a phenomenon. It might be a blast to play as a different type of Batman who employs similar methods to those seen in the games we know and love.
Whatever the case, it's getting to the point where we need to hear something solid either way. Fans can only go so long coming up with their own theories before they go completely bonkers and end up in Arkham Asylum themselves.