Fans Think GTA Online Teased GTA 6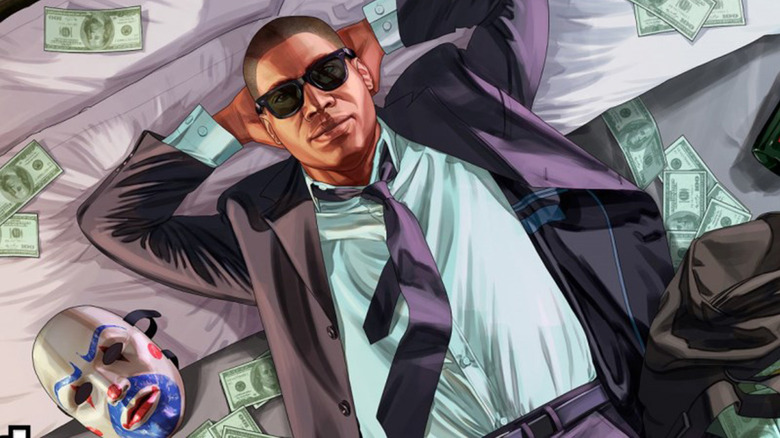 Another new day brings even more new rumors regarding Grand Theft Auto 6. However, the latest apparent leaks seem rather convincing, so let's take a look at what some enterprising GTA fans have seemingly uncovered. 
Imgur user tenet007 has shared a screenshot of the map for the latest race track to be added to GTA Online. In true conspiracy theory fashion, tenet007 has circled portions of the map that slightly resemble Mexico and Florida. According to tenet007, this may be Rockstar's latest sly hint that the next game in the series will be returning to these locales. And of course, if a Grand Theft Auto game is heading to Florida, then a trip to Vice City (the GTA universe's stand-in for Miami) can't be too far behind.
This lines up rather neatly with GTA 6 rumors we've been hearing for quite some time. It was reported as early as 2018 that Rockstar Games' internal working title for GTA 6 was "Project Americas." The game was supposedly intended to take place over the course of several years and feature multiple locations familiar to fans of the series, including — you guessed it — Vice City. The rumored plot was to center around the cocaine trade in the 1980s, making Vice City a natural fit for a story like that. Thanks to some party favors given out during a Rockstar event, there were also rumors that the game might partially take place in Jamaica and Columbia.
If it turns out that Grand Theft Auto 6 truly is a return to the streets of Vice City, then fans who have been speculating for months may find themselves vindicated at last. Just within the last month, the rumor mill has been going wild about the future of the GTA franchise, and Vice City's involvement in particular. 
In February, former Rockstar senior artist Stephen Bliss posted a few images to his Instagram that showed off some original characters in exceedingly Vice City-esque outfits. The posts have since been deleted, but he later posted images from a Loaded magazine piece he had contributed artwork for, along with the extremely telling hashtags "#noideaaboutnewGTA" and "#justpostingimagesILike." It certainly seemed like Bliss was doing a great deal of backpedaling, especially with the removal of an image that he originally said was simply a self portrait in his distinct Vice City style.
Then, later on in the month, fans noticed some interesting changes to Rockstar's official website and social media channels. While it appeared that GTA 6 fans were simply reaching at this point, there were a few notable differences. Fans were quick to point out the presence of a new Rockstar logo featuring a feminine robot on the company website, but it was the apparent presence of a new private video on Rockstar's YouTube account that really piqued everyone's interest. Immediately, people began speculating that some kind of big announcement was coming.
The most interesting portion of the original tenet007 post is that it appears to have been partially corroborated by a notable Rockstar leaker. GTA forum user gonnaenodaethat appeared to be on board with tenet007's theory, leaving the cryptic comment, "Cartographers start your engines!!" 
This has led tenet007 to believe that they're truly onto something — either that the noted similarities to Florida and Mexico are dead on, or there's a possibility that there's yet another secret hidden in plain sight on this map. 
There are more than a few reasons to believe gonnaenodaethat knows something that we don't. As Reddit user bozidarillic points out, gonnaenodaethat's account is from Scotland, where Rockstar North is based. There have also been multiple occasions of gonnaenodaethat posting cryptic messages to various threads speculating on GTA 6, none of which get flagged by the extremely vigilant moderators. Lastly, as pointed out by bozidarillic, "3 weeks before [Red Dead Redemption 2] for PC was announced, he started the topic with cryptic messages inside RDR 2 section, and he was pinned by moderators."
In other words, there are a few reasons to believe that gonnaenodaethat is well-connected to Rockstar in some way. It could be that the user is privy to some inside information that we haven't heard yet. Whatever the case, it's probably enough to whip GTA fans into a frenzy again.
Here we are again, less than a month later, and the signs pointing toward possible GTA 6 announcements are more evident than ever. Hopefully Rockstar will make a legit announcement in the near future. We'll be sure to keep an eye out for any rumblings.