How To Craft Every Houseware In Animal Crossing: New Horizons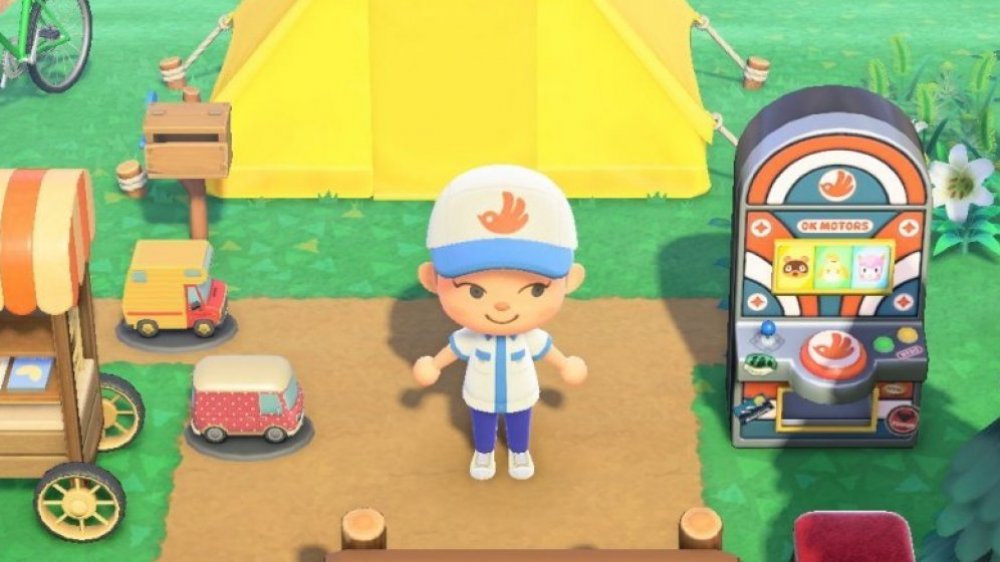 Perhaps inspired by the wild success of games like Minecraft and Stardew Valley, Animal Crossing: New Horizons allows players to craft their wares rather than save up to purchase them from Timmy and Tommy Nook. The game has fully embraced the DIY craze and has scattered recipes throughout. Through a slow trickle of message in a bottle letters, recommendations from neighbors, and nudges from the Nooks, you'll find your character is handy enough to make just about anything.
Advertisement
Decorating your house and island — you can place items almost anywhere — might seem like a monumental task. Here's all you need to know about what you can create to make your island a little less wild and empty. You can also check out the Tools Guide and Wearables Guide.
Apple Chair
Apple Rug
Apple Wall
Acoustic Guitar
Softwood x8
Iron Nugget x3
Aquarius Urn
3x Star Fragment
2x Aquarius Fragment
2x Gold Nugget
5x Stone
Aries Rocking Chair
Stone x5
Gold Nugget x1
Star Fragment x3
Aries Fragment x2
Aroma Holder
Asteroid
Stone x10
Star Fragment x1
Astronaut Suit
Iron Nugget x5
Star Fragment x5
Autumn Wall
Maple Leaf x10
Wood x5
Clump of Weeds x5
Backyard Lawn
Bamboo Basket
Bamboo Bench
Bamboo Doll
Bamboo Drum
Bamboo Piece x3
Softwood x2
Bamboo Candleholder
Bamboo Flooring
Bamboo Lunchbox
Bamboo Noodle Slide
Young Spring Bamboo x7
Wood x3
Bamboo Partition
Bamboo Shelf
Bamboo Speaker
Bamboo Piece x3
Iron Nugget x1
Bamboo Sphere
Bamboo Stool
Bamboo Stop Block
Bamboo-grove Wall
Young Spring Bamboo x7
Bamboo Shoot x3
Bamboo-shoot Lamp
Young Spring Bamboo x4
Bamboo Shoot x5
Clay x4
Bamboo Wall
Bamboo Wall Decoration
Advertisement
Barbed Wire Fence
Hardwood x4
Iron Nugget x2
Barbell
Barrel
Basement Flooring
Beekeeper's Hive
Birdbath
Birdcage
Birdhouse
Blossom-viewing Lantern
Cherry Blossom Petal x6
Hardwood x4
Blue Rose Wreath
Bone Doorplate
Bonfire
Bonsai Shelf
Cherry Blossom Bonsai x1
Pine Bonsai Tree x1
Wood x8
Boomerang
Brick Fence
Brick Oven
Clay x8
Iron Nugget x2
Wood x6
Brick Well
Clay x8
Wood x5
Flimsy Shovel x1
Brown Herringbone Wall
Bunny Day Arch
Stone Egg x2
Earth Egg x2
Leaf Egg x2
Wood Egg x2
Sky Egg x2
Water Egg x2
Bunny Day Bed
Earth Egg x1
Stone Egg x1
Water Egg x1
Leaf Egg x1
Wood Egg x1
Sky Egg x1
Bunny Day Fence
Earth Egg x1
Stone Egg x1
Leaf Egg x1
Wood Egg x1
Sky Egg x1
Water Egg x1
Bunny Day Festive Balloons
Stone Egg x1
Wood Egg x1
Water Egg x1
Bunny Day Flooring
Earth Eggs x2
Stone Eggs x2
Leaf Eggs x2
Wood Eggs x2
Sky Eggs x2
Water Eggs x2
Bunny Day Glowy Garland
Earth Egg x1
Stone Egg x1
Leaf Egg x1
Wood Egg x1
Sky Egg x1
Water Egg x1
Bunny Day Lamp
Bunny Day Merry Balloons
Earth Egg x1
Leaf Egg x1
Sky Egg x1
Bunny Day Rug
Earth Egg x1
Stone Egg x1
Leaf Egg x1
Wood Egg x1
Sky Egg x1
Water Egg x1
Bunny Day Stool
Bunny Day Table
Bunny Day Vanity
Bunny Day Wallpaper
Earth Eggs x2
Stone Eggs x2
Leaf Eggs x3
Wood Eggs x2
Sky Eggs x2
Water Eggs x2
Bunny Day Wall Clock
Bunny Day Wardrobe
Bunny Day Wreath
Earth Egg x1
Stone Egg x1
Leaf Egg x1
Wood Egg x1
Sky Egg x1
Water Egg x1
Bunny Day Wobbling Zipper Toy
Earth Eggs x4
Stone Eggs x4
Leaf Eggs x4
Wood Eggs x4
Sky Eggs x4
Water Eggs x4
Butter Churn
Campfire
Cancer Table
Stone x3
Gold Nugget x2
Star Fragment x3
Cancer Fragment x2
Capricorn Ornament
Star Fragment x3
Capricorn Fragment x2
Gold Nugget x2
Stone x12
Cardboard Bed / Table
Cardboard Chair
Cardboard Sofa
Cherry Blossom Bonsai
Cherry Blossom Petal x6
Hardwood x2
Clump of Weeds x3
Clay x3
Cherry Blossom Branches
Cherry Blossom Petal x8
Tree Branch x4
Clay x5
Cherry Blossom Clock
Cherry Blossom Petal x5
Iron Nugget x1
Cherry-blossom Flooring
Cherry-blossom Petal x10
Clump of Weeds x20
Cherry Blossom Pile
Cherry Blossom Pond Stone
Stone x10
Cherry Blossom Petal x3
Cherry-blossom Trees Wall
Cherry-blossom Petal x10
Hardwood x5
Cherry Lamp
Cherry Rug
Cherry Speakers
Cherry x10
Iron Nugget x2
Chic Cosmos Wreath
Chic Windflower Wreath
Chocolate Herringbone Wall
Clackercart
Classic Library Wall
Classic Pitcher
Clothesline
Coconut Juice
Coconut Wall Planter
Coconut x1
Clump of Weeds x5
Colored-leaves Flooring
Maple Leaf x10
Clump of Weeds x15
Cool Hyacinth Wreath
Orange Hyacinth x3
Blue Hyacinth x3
Pink Hyacinth x3
Cool Pansy Wreath
Cool Windflower Wreath
Blue Windflower x3
Pink Windflower x3
White Windflower x3
Corral Fence
Cosmos Shower
Pink Cosmos x5
Iron Nugget x3
Cosmos Wreath
Yellow Cosmos x3
White Cosmos x3
Red Cosmos x3
Country Fence
Crescent Moon Chair
Star Fragment x1
Large Star Fragment x1

Advertisement
Crest Doorplate
Crewed Spaceship
Iron Nugget x20
Star Fragment x10
Cutting Board
Hardwood x2
Iron Nugget x1
Dark Bamboo Rug
Dark Lily Wreath
Dark Rose Wreath
Black Roses x3
Purple Roses x6
Dark Tulip Wreath
Dark Wooden Mosaic Wall
Decoy Duck
Deer Decoration
Deer Scare
Bamboo Piece x3
Stone x8
Clump of Weeds x3
Destinations Signpost
Document Stack
Doghouse
Drinking Fountain
Fancy Lily Wreath
Orange Lily x3
Pink Lily x3
Yellow Lily x3
Fancy Mum Wreath
Pink Mum x3
Purple Mum x3
Red Mum x3
Fancy Rose Wreath
Orange Rose x3
Pink Rose x3
Yellow Rose x3
Firewood
Floral Swag
Flower Stand
Red Rose x1
Pink Rose x2
Orange Rose x2
White Lily x2
Yellow Lily x1
Purple Windflower x4
Flying Saucer
Iron Nugget x10
Star Fragment x15
Forest Flooring
Rare Mushroom x1
Round Mushroom x2
Skinny Mushroom x2
Flat Mushroom x2
Clump of Weeds x10
Forest Wall
Elegant Mushroom x2
Round Mushroom x2
Skinny Mushroom x2
Flat Mushroom x2
Wood x10
Fossil Doorplate
Fountain
Drinking Fountain x1
Stone x20
Iron Nugget x8
Frozen Arch
Large Snowflake x1
Snowflake x10
Frozen Bed
Large Snowflake x1
Snowflake x10
Frozen Chair
Large Snowflake x1
Snowflake x3
Frozen Counter
Large Snowflake x1
Snowflake x5
Frozen Partition
Large Snowflake x1
Snowflake x6
Frozen Pillar
Large Snowflake x1
Snowflake x3
Frozen Sculpture
Large Snowflake x1
Snowflake x4
Frozen Table
Large Snowflake x1
Snowflake x8
Frozen Tree
Large Snowflake x1
Snowflake x8
Frozen Treat Set
Snowflake x1
Large Snowflake x1
Fruit Basket
Apple x1
Pear x1
Orange x1
Cherry x1
Peach x1
Fruit Wreath
Pear x1
Apple x2
Orange x3
Cherry x3
Peach x1
Frying Pan
Galaxy Flooring
Star Fragment x5
Large Star Fragment x1
Garbage-heap Flooring / Garbage-heap Wall
Empty Can x2
Boot x2
Old Tire x2
Garden Bench
Garden Rock
Garden Wagon
White Hyacinth x3
Red Cosmos x3
Yellow Roses x3
Wood x8
Iron Nugget x2
Gemini Closet
Star Fragment x3
Gemini Fragment x2
Gold Nugget x2
Stone x6
Giant Teddy Bear
Papa Bear x1
Mama Bear x1
Baby Bear x1
Golden Arowana Model
Gold Bars
Golden Candlestick
Golden Casket
Golden Dishes
Golden Dung Beetle
Golden Flooring
Golden Gears
Gold Nugget x1
Iron Nugget x3
Gold Rose Wreath
Golden Seat
Gold-screen Wall
Gold Nugget x2
Screen Wall x1
Golden Wall
Gold Toilet
Gong
Grass Standee
Green-leaf Pile
Young Spring Bamboo x1
Clump of Weeds x10
Hanging Terrarium
Clump of Weeds x12
Iron Nugget x4
Haybed
Hearth
Bamboo Piece x2
Clay x4
Iron Nugget x5
Hardwood x5
Hedge Standee
Honeycomb Flooring
Honeycomb Wall
Hyacinth Lamp
Purple Hyacinth x5
Clay x3
Hyacinth Wreath
White Hyacinth x3
Red Hyacinth x3
Yellow Hyacinth x3
Ice Flooring
Large Snowflake x1
Snowflake x8
Iceberg Flooring
Ice Wall
Large Snowflake x1
Snowflake x8
Illuminated Present
Red Ornament x3
Gold Ornament x4
Iron Nugget x3
Illuminated Reindeer
Gold Ornament x6
Iron Nugget x5
Illuminated Snowflakes
Blue Ornament x9
Iron Nugget x3
Illuminated Tree
Red Ornament x8
Blue Ornament x8
Gold Ornament x6
Iron Nugget x6
Imperial Fence
Infused-Water Dispenser
Apple x2
Cherry x2
Pear x2
Orange x2
Peach x2

Advertisement
Iron Doorplate
Iron Closet
Iron Fence
Iron Frame
Iron Garden Bench
Iron Garden Chair
Iron Garden Table
Iron Hanger Stand
Iron and Stone Wall
Iron Shelf
Iron Wall Lamp
Iron Work Table
Ironwood Bed
Ironwood Cart
Ironwood Chair
Ironwood Clock
Ironwood Cupboard
Wood x12
Iron Nugget x4
Ironwood Dresser x1
Ironwood DIY Workbench
Wood x12
Iron Nugget x6
Mini DIY Workbench x1
Ironwood Dresser
Ironwood Kitchenette
Wood x4
Iron Nugget x3
Ironwood Dresser x1
Ironwood Low Table
Ironwood Table
Key Holder
Jail Bars
Jingle Wall
Red Ornament x5
Blue Ornament x5
Gold Ornament x5
Clay x5
Juicy Apple TV
Jungle Flooring
Clump of Weeds x10
Clay x10
Jungle Wall
Clump of Weeds x15
Wood x3
Hardwood x3
Softwood x3
Kettle Bathtub
Iron Nugget x8
Wood x2
Campfire x1
Kettlebell
Lattice Fence
Large Cardboard Boxes
Leaf Campfire
Pine Cone x3
Clump of Weeds x5
Tree Branch x3
Leo Sculpture
Star Fragment x3
Leo Fragment x2
Gold Nugget x2
Stone x3
Libra Scale
Star Fragment x3
Libra Fragment x2
Gold Nugget x2
Library Wall
Light Bamboo Rug
Lily Record Player
White Lilies x5
Iron Nugget x3
Wood x3
Lily Wreath
White Lily x3
Red Lily x3
Yellow Lily x3
Log Bed
Log Bench
Log Decorative Shelves
Log Dining Table
Log Doorplate
Log Garden Lounge
Log Round Table
Log Sofa
Log Stakes
Log Stool
Log Wall-mounted Clock
Hardwood x2
Iron Nugget x1
Lucky Gold Cat
Gold Nugget x3
Lucky Cat x1
Lunar Lander
Iron Nugget x15
Star Fragment x10
Lunar Rover
Iron Nugget x10
Old Tire x4
Star Fragment x10
Lunar Surface
Star Fragment x5
Large Star Fragment x1
Magazine Rack
Manga-library Wall
Manhole Cover
Matryoshka
Mini DIY Workbench
Wood x3
Hardwood x3
Softwood x3
Iron Nugget x3
Modeling Clay
Modern Wood Wall
Wood x5
Hardwood x5
Softwood x5
Money Flooring
Moon
Star Fragment x15
Large Star Fragment x1
Mossy Garden Rock
Stone x15
Clump of Weeds x15
Mountain Standee
Mum Cushion
Clump of Weeds x10
Yellow Mum x3
Mum Wreath
White Mum x3
Red Mum x3
Yellow Mum x3
Music Stand
Mush Lamp
Skinny Mushroom x1
Clay x5
Mush Log
Skinny Mushroom x2
Log Stool x1
Mush Low Stool
Mush Parasol
Mush Partition
Mush Table
Mush Wall
Elegant Mushroom x1
Round Mushroom x1
Flat Mushroom x1
Skinny Mushroom x1
Mushroom Wreath
Tree Branch x10
Round Mushroom x1
Skinny Mushroom x1
Flat Mushroom x1
Natural Garden Chair
Hardwood x6
Iron Nugget x2
Natural Garden Table
Hardwood x9
Iron Nugget x3
Natural Mum Wreath
Natural Square Table
Hardwood x4
Iron Nugget x2
Nova Light
Ocarina
Advertisement
Oil Barrel Bathtub
Oil Barrel x1
Campfire x1
Stone x2
Old-fashioned Washtub
Ornament Mobile
Red Ornament x1
Blue Ornament x1
Gold Ornament x1
Tree Branch x4
Ornament Wreath
Gold Ornament x2
Blue Ornament x6
Orange End Table
Orange-mounted Wall Clock
Orange Rug
Orange Wall
Outdoor Bath
Outdoor Picnic Set
Palm-Tree Lamp
Wood x4
Clay x4
Coconut x4
Pan Flute
Pansy Table
Yellow Pansies x5
Hardwood x3
Pansy Wreath
Red Pansy x3
White Pansy x3
Yellow Pansy x3
Paw Print Doorplate
Peach Chair
Peach Rug
Peach Surprise Box
Peach Wall
Pear Bed
Pear Rug
Pear Wall
Pear Wardrobe
Pile of Leaves
Pine Cone x3
Clump of Weeds x5
Pile of Zen Cushions
Pine Bonsai Tree
Pisces Lamp
Star Fragment x3
Pisces Fragment x2
Gold Nugget x2
Stone x4
Plain Sink
Wood x6
Iron Nugget x1
Clay x4
Plain Wooden Shop Sign
Pot
Potted Ivy
Clump of Weeds x5
Clay x5
Pretty Cosmos Wreath
Orange Cosmos x3
Pink Cosmos x3
Red Cosmos x3
Pretty Tulip Wreath
Orange Tulip x3
Pink Tulip x3
Purple Tulip x3
Purple Hyacinth Wreath
Raccoon Figure
Recycled-can Thumb Piano
Empty Can x1
Wood x1
Iron Nugget x1
Ringtoss
Robot Hero
Iron Nugget x90
Gold Nugget x10
Rocket x1
Rusted Part x30
Golden Armor x1
Rocket
Iron Nugget x20
Star Fragment x10
Rocking Chair
Rocking Horse
Rope Fence
Rose Bed
Rose Wreath
Red Rose x3
White Rose x3
Yellow Rose x3
Rustic Stone Wall
Sagittarius Arrow
Star Fragment x3
Sagittarius Fragment x2
Gold Nugget x2
Sakura Wood Flooring
Cherry Blossom Petal x5
Wood x10
Sakura Wood Wall
Cherry Blossom Petal x5
Wood x10
Sandy-beach Flooring
Sea Snail x1
Cowrie x1
Coral x1
Venus Comb x1
Giant Clam x1
Sand Dollar x1
Satellite
Iron Nugget x15
Star Fragment x10
Sauna Heater
Stone x6
Iron Nugget x3
Wood x3
Scarecrow
Tree Branch x5
Clump of Weeds x5
Scattered Papers
Sci-fi Flooring
Star Fragment x5
Large Star Fragment x1
Sci-fi Wall
Star Fragment x5
Large Star Fragment x1
Scorpio Lamp
Star Fragment x3
Scorpius Fragment x2
Gold Nugget x2
Stone x5
Shell Arch
Sea Snail x3
Venus Comb x3
Coral x3
Sand Dollar x3
Giant Clam x3
Cowrie x3
Shell Bed
Stone x4
Clay x3
Giant Clam x4
Shell Fountain
Shell Lamp
Shell Partition
Shell Rug
Shell Speaker
Shell Stool
Shell Table
Shell Wreath
Summer Shell x1
Sea Snail x1
Sand Dollar x1
Coral x1
Cowrie x1
Giant Clam x1
Signpost
Silo
Iron Nugget x12
Hardwood x6
Clay x12
Stone x12
Simple DIY Workbench
Hardwood x5
Iron Nugget x1
Simple Well
Stone x15
Flimsy Shovel x1
Sleigh
Simple Wooden Fence
Ski-slope Flooring
Ski-slope Wall
Small Cardboard Boxes
Snazzy Pansy Wreath
Yellow Pansies x3
Orange Pansies x3
Blue Pansies x3
Snowflake Wall
Snowflake Wreath
Space Shuttle
Iron Nugget x10
Star Fragment x5
Spiky Fence
Stack of Books
Stacked Magazines
Stacked Wood Wall
Advertisement
Stand
Standard Umbrella Stand
Star Clock
Iron Nugget x1
Star Fragment x3
Starry Garland
Starry-Sands Flooring
Summer Shell x3
Sandy-Beach Flooring x1
Starry-Sky Wall
Star Fragment x5
Large Star Fragment x1
Steamer-basket Set
Steel-frame Wall
Steel Flooring
Stone Arch
Stone Fence
Stone Lion-dog
Stone Stool
Stone Table
Stone Tablet
Stone Wall
Straw Fence
Clump of Weeds x10
Wood x3
Succulent Plant
Clump of Weeds x10
Empty Can x1
Swinging Bench
Tall Garden Rock
Tall Lantern
Taurus Bathtub
Star Fragment x3
Taurus Fragment x2
Gold Nugget x1
Stone x8
Tea Table
Terrarium
Iron Nugget x2
Clump of Weeds x12
Three-tiered Snowperson
Large Snowflake x1
Snowflake x6
Tree Branch x2
Tiki Torch
Timber Doorplate
Tiny Library
Tire Stack
Tire Toy
Traditional Balancing Toy
Trash Bags
Empty Can x1
Boot x1
Old Tire x1
Tree's Bounty Lamp
Tree's Bounty Little Tree
Pinecone x6
Acorn x4
Hardwood x1
Tree's Bounty Mobile
Pine Cone x2
Acorn x3
Tree Branch x3
Tree Branch Wreath
Tree Standee
Trophy Case
Hardwood x24
Gold Nugget x3
Iron Nugget x6
Tropical Vista
Tulip Surprise Box
Tulip Wreath
Red Tulip x3
White Tulip x3
Yellow Tulip x3
Underwater Flooring
Underwater Wall
Unglazed Dish Set
Vertical-board Fence
Virgo Harp
Star Fragment x3
Virgo Fragment x2
Gold Nugget x2
Stone x4
Water Flooring
Water Pump
Wave Breaker
Western Style Stone
Wild Log Bench
Wild Wood Wall
Windflower Fan
Iron Nugget x2
Red Windflower x3
Windflower Wreath
Red Windflower x3
White Windflower x3
Orange Windflower x3
Wooden Block Bookshelf
Wooden Block Toy x1
Softwood x3
Wooden Block Chair
Wooden Block Toy x1
Softwood x3
Wooden Block Chest
Wooden Block Toy x1
Softwood x12
Wooden Block Stereo
Wooden Block Toy x1
Softwood x5
Iron Nugget x2
Wooden Block Stool
Wooden Block Toy x1
Softwood x2
Wooden Block Table
Wooden Block Toy x1
Softwood x8
Wooden Block Toy
Wooden Block Wall Clock
Wooden Block Toy x1
Softwood x2
Iron Nugget x1
Wooden Bucket
Wooden Chair
Wooden Bookshelf
Wooden Double Bed
Wooden End Table
Wooden Fish
Wooden Full-length Mirror
Wooden Low Table
Wooden Mini Table
Wooden Mosaic Wall
Wooden Plank Sign
Wooden Simple Bed
Wooden Stool
Advertisement
Wooden Table Mirror
Wooden Toolbox
Softwood x4
Iron Nugget x2
Wooden Wardrobe
Wooden Washtub
Wooden Waste Bin
Wooden-knot Wall
Woodland Wall
Clump of Weeds x15
Softwood x9
Yellow Leaf Pile
Acorn x3
Clump of Weeds x5
Zen Fence
Iron Nugget x3
Clay x3
Stone x3
Zen-style Stone