How To Craft Every Wearable In Animal Crossing: New Horizons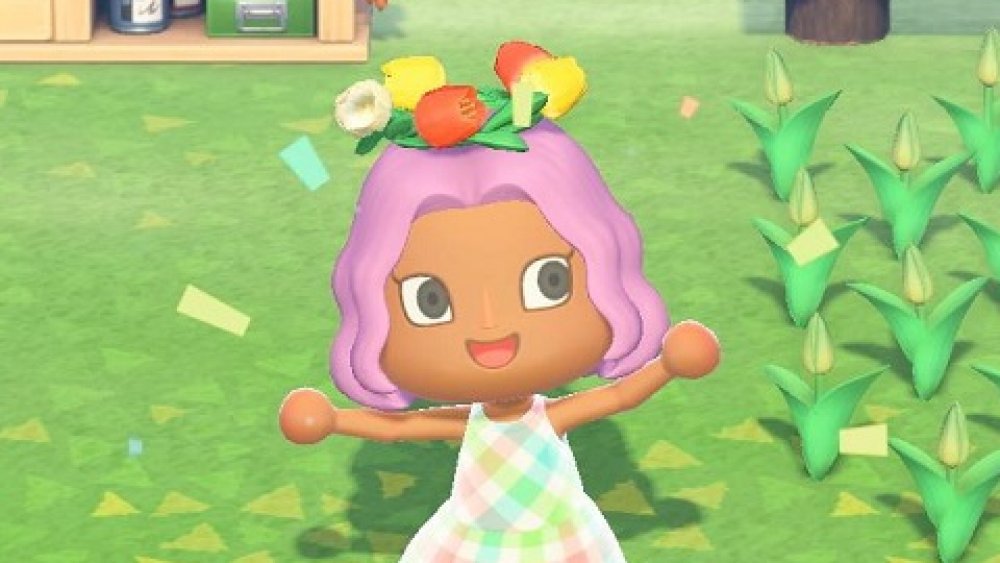 The latest title in the much-beloved Animal Crossing franchise has more customization options than ever before. Finally, you are able to make your avatar a little less creepy and a little more cute. That vacant stare has haunted many a player's dreams.
Advertisement
You have more hair styles, colors, face designs, and skin tones to choose from and New Horizons has also seen fit to let you accessorize. Villagers are free to express themselves with hats, flower crowns, bags, and more while chilling out on their island paradise.
Need to coordinate the perfect outfit? Here's a comprehensive, ever-expanding list of all your fashion options in Animal Crossing: New Horizons. This guide covers everything and anything you can DIY and then place on your villager. You can also check out the Tools Guide and Housewares Guide.
Acorn Pochette
Apple Dress
Apple Hat
Apple Umbrella
Armor Shoes
Bamboo Hat
Basket Pack
Blue Rose Crown
Bunny Day Bag
Earth Egg x1
Stone Egg x1
Leaf Egg x1
Water Egg x1
Wood Egg x1
Sky Egg x1
Bunny Day Crown
Earth Egg x1
Stone Egg x1
Leaf Egg x1
Sky Egg x1
Water Egg x1
Wood Egg x1
Cherry Blossom Pochette
Advertisement
Cherry Blossom Umbrella
Cherry Dress
Cherry Hat
Cherry Umbrella
Chic Mum Crown
Purple Mum x3
Pink Mum x3
Chic Rose Crown
Purple Roses x3
Black Roses x3
Chic Tulip Crown
Purple Tulips x2
Pink Tulips x2
Orange Tulips x1
Cool Hyacinth Crown
Blue Hyacinth x4
Pink Hyacinth x2
Orange Hyacinth x2
Cool Pansy Crown
Orange Pansy x3
Blue Pansy x3
Cosmos Crown
Red Cosmos x2
White Cosmos x3
Yellow Cosmos x2
Cute Lily Crown
Pink Lilies x2
Orange Lilies x2
White Lilies x2
Cute Rose Crown
Pink Rose x3
Orange Rose x3
Dark Cosmos Crown
Dark Lily Crown
Dark Tulip Crown
Earth Egg Outfit
Earth Egg Shell
Earth Egg Shoes
Gold Armor
Gold Armor Shoes
Gold Helmet
Gold Rose Crown
Grass Skirt
Green Grass Skirt
Hyacinth Crown
Red Hyacinth x4
Yellow Hyacinth x2
White Hyacinth x2
Iron Armor
Knight's Helmet
Knitted-Grass Backpack
Leaf
Leaf Mask
Leaf Umbrella
Leaf Egg Outfit
Leaf Egg Shell
Leaf Egg Shoes
Lily Crown
Red Lily x2
Yellow Lily x2
White Lily x2
Log Pack
Lovely Cosmos Crown
Pink Cosmos x4
Orange Cosmos x3
Maple Leaf Pochette
Maple Leaf Umbrella
Mum Crown
Red Mum x2
Yellow Mum x2
White Mum x2
Mush Umbrella
Orange Dress
Orange Hat
Orange Umbrella
Pansy Crown
Red Pansy x2
Yellow Pansy x2
White Pansy x2
Peach Dress
Peach Umbrella
Pear Dress
Pear Hat
Pear Umbrella
Purple Hyacinth Crown
Purple Pansy Crown
Purple Windflower Crown
Recycled Boots
Rose Crown
Red Rose x2
Yellow Rose x2
White Rose x2
Shell Pochette
Giant Clam x2
Summer Shell x6
Simple Mum Crown
Sky Egg Outfit
Sky Egg Shell
Sky Egg Shoes
Snowflake Pochette
Snowperson Head
Large Snowflake x1
Snowflake x5
Star Head
Star Pochette
Straw Umbrella Hat
Stone Egg Outfit
Stone Egg Shell
Stone Egg Shoes
Traditional Straw Coat
Tulip Crown
Red Tulips x2
Yellow Tulips x2
White Tulips x1
Water Egg Outfit
Water Egg Shell
Water Egg Shoes
Windflower Crown
White Windflower x2
Red Windflower x2
Orange Windflower x2
Wood Egg Outfit
Wood Egg Shell
Wood Egg Shoes