Twitter Reacts To Summer Game Fest Surprise Reveal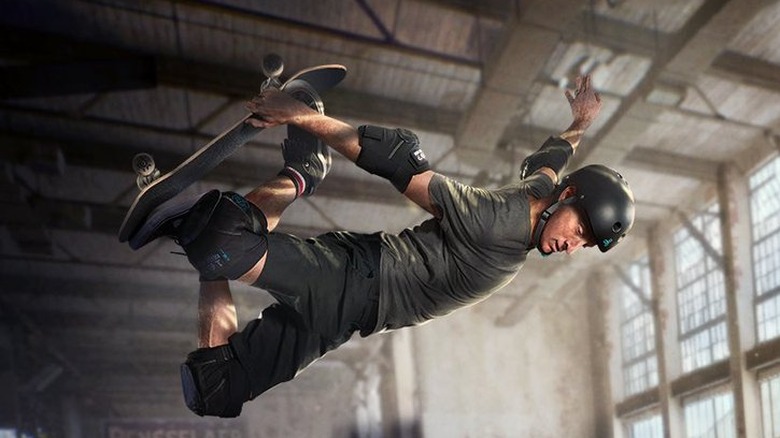 Hosted by Geoff Keighley, Summer Game Fest has been spreading good news and hyping up the gaming industry through a series of livestream events. This week, Summer Game Fest teased a "surprise game reveal" for May 12, setting off wild fan speculations. What could the new game possibly be?
Advertisement
Fans of the Grand Theft Auto series hoped for the unveiling of Grand Theft Auto 6, while other early theories centered on the long-anticipated reveal of the next Batman video game. Keighley himself shot down the Batman theory on Twitter.
It turns out the surprise reveal was for a remastered release of the first two games in the Tony Hawk's Pro Skater franchise, confirming rumors that circulated back in November 2019.
According to a report from The Verge, the remaster is being handled by Vicarious Visions, the folks behind the well-received Crash Bandicoot N. Sane Trilogy. The new version will encourage players "to dip in and out of both titles." There will also be an online Park Creator mode that allows players to build and share their own skate parks. Various add-ons for Park Creator mode can be unlocked through playing both games in the package. 
Advertisement
The inclusion of many of the music tracks from the original releases will also likely come as a pleasant surprise for fans of Pro Skater. That means the remaster will feature songs by such bands as Rage Against the Machine, Bad Religion, and Primus. 
The remaster looks pretty impressive, but how is the gaming world taking the news? Unsurprisingly, Twitter has blown up with reactions to the announcement. 
As you'd expect, Pro Skater fans were pretty pumped for the new release. One fan was excited to introduce Pro Skater to a new generation, tweeting, "I can't stop smiling this morning ... Now I can have my kids play one of the best games ever. So many hours spent playing THPS1."
Unfortunately, there were a lot of comments from folks who were disappointed the surprise reveal didn't have anything to do with Batman or Grand Theft Auto. One fan in particular shared their worry that a new Batman game would never be announced in any fashion. Another expressed their disappointment in gif form.
It's worth noting again that Geoff Keighley previously told his Twitter followers that the reveal wouldn't be for a new Batman game. Even after Keighley wrote this, people seemed to think that he was just being coy. One follower pointed out a batarang on the desk in Keighley's office, apparently citing this as evidence that a Batman reveal could have been on the way.
Advertisement
Some gamers are disappointed, but understand the Summer Game Fest probably wasn't the right place to announce a game like Grand Theft Auto 6 or a major Batman title. "If you expected GTA VI or Batman today then you need to learn how to manage expectations," read one tweet. "There's no way either of those games would be randomly revealed out of nowhere on a small stream."
Even those who managed their expectations couldn't keep themselves from feeling let down by the actual reveal. "I promised not to be disappointed, but a remastered game wasn't exactly the Big Bang to start your first SGF ever," one fan told Keighley in a tweet that has since been deleted. "If you really want [Summer Game Fest] to take on E3 I was expecting you to aim much higher."
One of the individuals who seems the most excited for the remaster is Tony Hawk himself. According to Eurogamer, Hawk spoiled the big reveal. Not only did he tweet the game's official artwork and release date, but he was apparently texting people a heads up about the unveiling.
"Hey I have a surprise and I wanted to tell you first: we are bringing back Tony Hawk's Pro Skater 1 & 2," Hawk allegedly wrote. "Original maps, original skaters and songs from the original soundtrack, plus new features! The game looks awesome and will be officially announced soon." 
Advertisement
In other words, the reactions to Pro Skater have been all over the place. Not only was the reveal not for a new AAA game like Batman, but it was for a remaster of much older titles. It's understandable that some people were disappointed when their expectations were so high. Despite this underwhelming response, gamers should keep in mind the Summer Game Fest has plenty more announcements and livestreams in the works.