GTA Fans Are Getting The Deal Of A Lifetime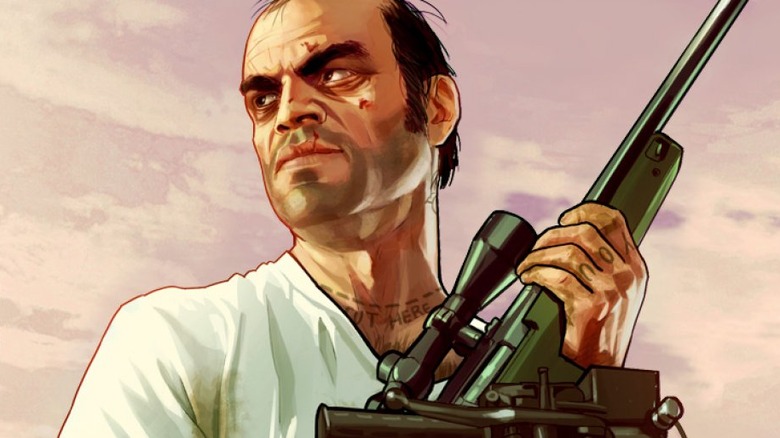 The Epic Games Store may have just made its biggest move yet. Fans of the Grand Theft Auto series are in luck, as the latest iteration of the franchise, the massively-successful Grand Theft Auto 5, is now available for absolutely free. All you need is an Epic Games account and it's yours to download and keep forever.
The Epic Games store began offering rotating free titles starting in December 2018. That makes it roughly a year and a half since the promotion began, but make no mistake, this week marks the biggest game Epic has ever offered for free. Previous weeks have often brought more than one title for free, but Grand Theft Auto 5 is the only free title up for grabs during this particular week. This makes sense, considering what a massive game it is. Anyone who snags it will be busy for the foreseeable future.
After all, Grand Theft Auto 5 is one of those rare cases of a game that continues to build its fan base nearly 7 full years after launch. Thanks to the addition of Grand Theft Auto Online, there's seemingly an endless amount of entertainment to be gained from the game. GTA Online continues to get regular updates, with the Casino Heist missions being a hugely popular addition to the chaos.
Grand Theft Auto 5 continues to inspire fans to create new content of their own, as well. Just recently, a fan-made mod was unveiled for the game that added ray tracing effects to the game's graphics. The result was nothing short of brilliant, making the game look like it belongs to the next generation of gaming. Adding onto that is the fact that other mods have sought to add content from previous games in the franchise into Grand Theft Auto 5, like the one that brings GTA 4's sprawling Liberty City map into the game. GTA has grown to be pretty bizarre in the last few years.
According to TechRadar, the game's addition to the Epic Games Store's free titles was announced a bit prematurely. In a tweet that has since been deleted, Epic Games wrote, "Get Grand Theft Auto V free on PC until May 21. Yours to keep forever on the Epic Games Store."
While Epic Games took that tweet down, fans have already leapt on the news and are sharing it all over. The game should become available sometime today. As TechRadar explains, the process of snagging the game is relatively simple. For those unfamiliar with the process, all you have to do is sign up for an Epic Games Store account, head over to the Free Games section, and click on Grand Theft Auto 5 when it shows as available.
This is a massive win for the Epic Games store, which had seemingly run out of steam in recent months. The controversial platform has already received some backlash in the past for its exclusivity deals with developers that have robbed Steam users of a few games in the past. Not only that, but it appeared as though the Epic Games Store was running low on free games to give away during last year's holiday season. Over the course of Epic's "12 Days of Christmas" giveaway in 2019, the Epic Games Store gave away multiple games that had previously been available as freebies. Of course, now we can see that Epic had much bigger deals on the way, such as Grand Theft Auto 5.
There's never been a better time to dive into Grand Theft Auto 5. Not only is the game's story mode a wild ride, but there's plenty to do once you finish the campaign. And honestly, you can't beat getting one of the best-selling games of all time for absolutely free.
With the news that a new Grand Theft Auto game is officially in the works, it seems like a good opportunity to see what all the fuss is about. There are plenty of theories about what that next game may entail, but it's very likely that the new game will build off of what worked in GTA 5. If you've never played a Grand Theft Auto game, then GTA 5 is one heck of a place to start. Even when the game doesn't make a lick of sense, it's a fun time, and the online components have continued to keep things fresh for even the most diehard of fans. If nothing else, snagging GTA 5 means that you can choose sides in the ongoing green vs. purple alien battle that's been going on in GTA Online. 
No, really. Los Santos is a particularly wild place to be, these days.