Dr Disrespect's New PC Has A Hefty Price Tag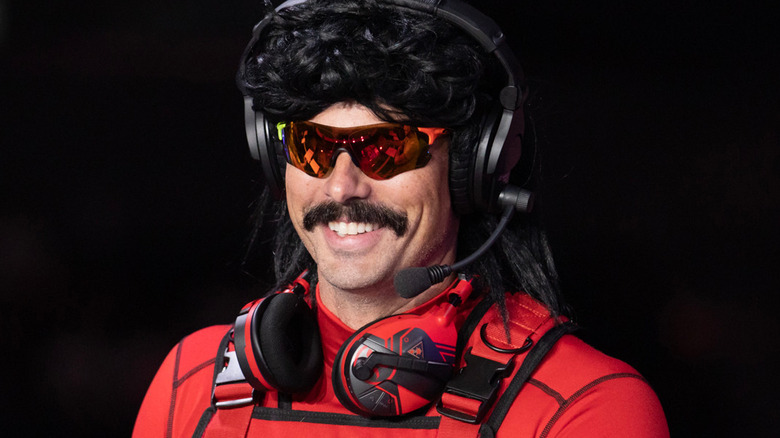 In a recent stream, Dr Disrespect excitedly showed off his new gaming setup to his fans. It's definitely a doozy, which left folks wondering how much the new rig could have set the Doc back. After all, PC gaming isn't cheap, especially when you're playing on the level that Dr Disrespect is. 
Advertisement
Using PC Part Picker, Dexerto's David Purcell was able to put together a rough estimate of what the Doc's new gaming rig (from manufacturer Digital Storm) likely cost him. According to Purcell, pretty much every little bit is pricier than what most people are working with.
He writes, "the CPU alone, AMD Ryzen Threadripper 39990x, would set you back a staggering $3,500, which shows you the type of ballpark the Two-Time is playing in."
That's pretty wild, but it doesn't stop there. Dr Disrespect's new setup also includes such luxuries as an Aventum X case and two Samsung 970 Evo 2TB NVME solid-state drives. With PC Part Picker as a pricing resource, Purcell concluded that the Doc's new gaming rig would cost around $10,000 for the whole setup. 
Advertisement
However, Purcell even admits that this figure may not be all-inclusive. Dr Disrespect's new PC also has a custom waterloop cooling system, after all. This leads Purcell to write, "It's difficult to work out the exact price ... we don't know what power supply is running it all. But for something like this, a power supply of at least 1500W would be needed, and other extras will mount onto the price as well."
In other words, the Doc isn't playing around here. There's a very good chance that the Doc's new PC could cost well over the estimated ten grand price point, which is mind-boggling. 
It makes sense, though, especially considering the fact that the Doc has always gone all-in with his production value. When the streamer announced earlier this year that he was planning to stay with Twitch for the foreseeable future, he did so with an insane short film that featured him base jumping out of a jet and gliding into a futuristic city. In fact, the Doc later jokingly pointed to that very video as his proof that Twitch was better than Mixer and was paying him handsomely to keep doing his thing. Basically, we shouldn't be surprised by the fact that the streamer dropped a massive chunk of change on his new PC. Dr Disrespect isn't exactly known for doing things halfway.
Advertisement
"One of the best days ever," said Dr Disrespect in a clip of the stream. "Digital Storm, firm handshakes. I mean the craftsmanship. When I took it out the box ... I'm like a little kid. Any sort of tech I take out of the box I'm gonna be excited. But man, I was really, really excited about this one."
It's easy to see why the Doc would be so excited. This new rig is well above anything that the average gamer is playing with. That's one of the perks of being a streamer with such a massive following. As of this writing, Dr Disrespect has around 4.3 million subscribers. With those kind of numbers, it's totally understandable that he'd want to give his viewers something they could really sink their teeth into.
Dr Disrespect isn't the only popular streamer with an incredible (and pricey) setup like this. Ninja has a rig that includes a Corsair K70 keyboard, an NZXT PC, and a Beyerdynamic DT 990 headset. The streamer recently released a few of these details regarding his rig because he is giving fans a chance to actually win it for themselves. 
As part of the All-In Challenge charity relief campaign, Ninja has pledged a three-hour virtual gaming session with him. One donor to the campaign will win the chance to play video games with Ninja and receive the superstar streamer's gaming rig as a secondary prize.
Advertisement
Dr Disrespect is clearly very excited about the new gaming rig. Even aside from his usual online persona of being a little over the top, there's a sincerity to his tone as he discussed the new setup. In fact, he was so hyped over the new rig that he also posted a clip on his Twitter showing it all off. It's edited like a typical Dr Disrespect hype video, full of extreme closeups, techno music, and a gritty voiceover that lays out every piece of the rig. 
Maybe the edge this new setup gives him will alleviate some of his frustrations with Call of Duty: Warzone (but probably not). Still, one thing is for sure: it should be pretty exciting for fans to see the Doc's new PC in action on upcoming streams.