The One Part Of The PS5 Reveal No One Is Talking About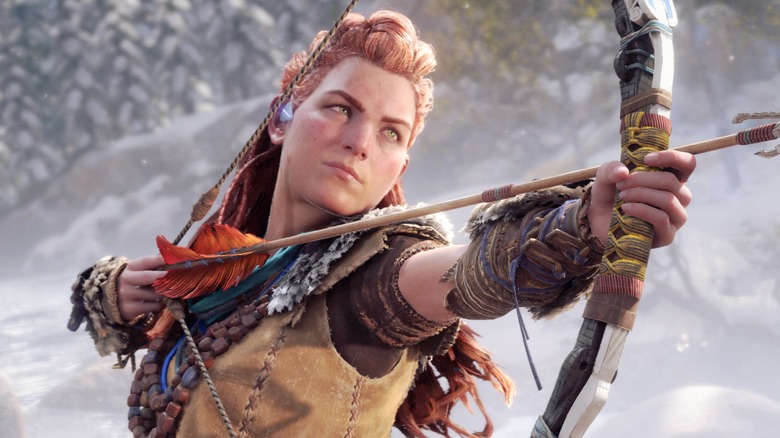 Sony had a huge day yesterday. The Future of Gaming livestream event unveiled several new games for the upcoming PlayStation 5. These included several new entries in popular franchises, as well as a great number of original games that could launch their own new series. All in all, if the reaction from fans on Twitter is any indication, the Future of Gaming event was a big success for Sony. However, there was one aspect of the event that it seems few people are talking about.
Advertisement
It appears as though here's a great deal of positive female representation at work in these upcoming games. Several of the titles on display featured female protagonists, which seems to point toward an interesting change in how the industry views female protagonist in video games. 
The most obvious example would be the highly-anticipated Horizon 2: Forbidden West. This game is the sequel to the beloved Horizon Zero Dawn and features the return of that game's protagonist, the machine hunter Aloy. The trailer for Forbidden West indicates that she's still front and center in the sequel, which is great news for everyone who enjoyed seeing Aloy's growth in the first game. It's also a testament to the first game's impact on the industry, considering the fact that Guerrilla Games had to convince Sony to go along with Aloy as a lead in the first place.
Advertisement
Back when the first Horizon installment was early in development, there were concerns that Aloy may not have proven to be marketable. According to Shuhei Yoshida, head of Sony Computer Entertainment's world wide studios, "I was nervous to see the reaction from people. She's a female lead character. That has always been the vision by the team, but we had a discussion. Is it risky to do a female character?"
As explained by Yoshida, Guerrilla Games had to field several concerns from the folks at Sony. This led to extensive market research and focus testing, which finally convinced Sony that people were ready and excited for a character like Aloy. Of course, the game eventually released to rave reviews and the sequel will be continuing Aloy's journey, so it was all for the best in the end. Still, it's interesting to see how much that attitude seems to have changed in the past few years, at least internally at Sony.
However, Horizon: Forbidden West wasn't the only game to feature a strong female lead. Also of note was Returnal, which seems to depict a character and plot line somewhat inspired by Edge of Tomorrow, a science fiction film that featured a powerhouse lead performance from Emily Blunt. Returnal follows the story of an astronaut who keeps reliving the same violent day over and over again. The main character also appears to be a somewhat older woman, which really feels like something new for the game industry. 
Advertisement
Other games that appeared to feature women as their central protagonists included Project Athia and Solar Ash. While both games had rather mysterious trailers that don't reveal much of their plots, they both appear to blend science fiction and fantasy in interesting ways. Project Athia's trailer has also drawn comparisons to Lumen in the Land of Nanite, the tech demo created by Epic Games to show off the new Unreal 5 engine. This is especially notable when one considers the fact that Lumen in the Land of Nanite was actually run on a PlayStation 5 dev kit, showing off the console's processing capabilities. Also, Lumen in the Land of Nanite featured a female character as its central focus.
The shift towards more female-driven storytelling hasn't been entirely well-received by the gaming community in the past, but that could be changing. There was recently a bit of an uproar surrounding Assassin's Creed Valhalla, with some criticisms surrounding the game's inclusion of a choice between male or female protagonists. Some fans of the series expressed concern that it would split the franchise's timeline or depict a version of viking history that didn't make sense. However, the game's lead writer has explained that the development team has gone out of its way to make sure that this inclusion is based in relative historical accuracy and it doesn't break the series canon.
Advertisement
It appears that the future of gaming may be female, which also shows a massive shift in how developers are approaching game design. Female protagonists are no longer limited to Lara Croft and Samus Aran. There are plenty of reasons to be excited for the next console generation, but Sony secretly showed gamers that they may be able to look forward to a more inclusive era of storytelling.