The Real Reason The iPhone 12 May Not Include A Charger Or Headphones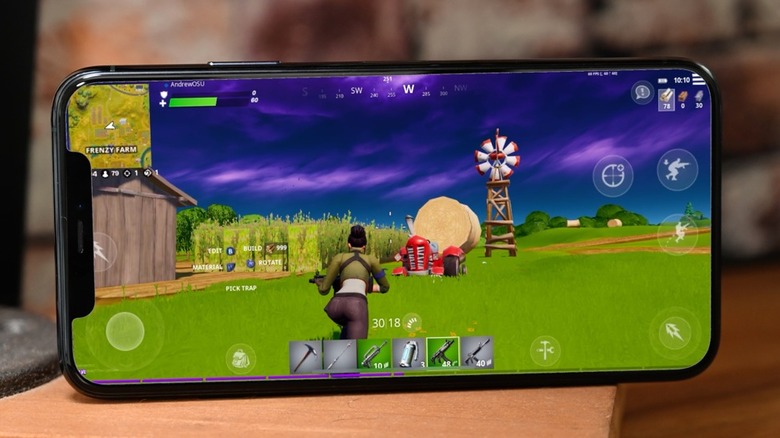 The race to the next generation of video game consoles is in full swing. This holiday season, the battle between the Xbox Series X and the PlayStation 5 will rage on. However, we shouldn't forget about another major component in the video game industry: mobile gaming. While they're away from their beloved consoles or PCs, gamers on the go have come to rely on mobile games for a fix. However, that may become a bit trickier of a solution in the coming months. If recent rumors turn out to be true, then we may be looking at a major change for how the next generation of iPhones are sold. 
According to CNBC, TF Securities analyst Ming-Chi Kuo believes that the next version of the iPhone will not include either headphones or a power cable in the box at retail. Kuo had previously believed that the next iPhone — referred to be Kup specifically as the iPhone 12 — will exclude these usual accessories as a way for Apple to cut costs. Apparently one of the biggest contributing factors in this decision is the fact that Apple wants to sell the iPhone 12 at a price that is comparable to the iPhone 11. 
Kuo had previously predicted that the iPhone 12 would not come with headphones, but his latest research has led to him doubling down on this prediction and nixing the idea of a charging cable as well. 
This news will be of particular interest to Apple fanatics who use the iPhone as a gaming platform in addition to its many other functions.  Over the last several years, the Apple iPhone has become a major revenue source for the gaming industry. Games like Fortnite are able to generate huge amounts of money through the mobile market. In fact, the mobile version of Fortnite has amassed over a billion dollars in the just the last couple of years. Meanwhile, Call of Duty: Mobile has likewise earned its publisher an insane sum of cash. 
This actually lines up with what other analysts have recently predicted. Just a few days ago, MacRumors intercepted a research note from British bank Barclays, which indicated similar findings. While Barclays believes that the production schedule for the next model iPhone is behind by a few weeks (likely thanks to the coronavirus outbreak), it holds fast in the belief that the iPhone 12 will ship without a charging cable or headphones in the box. 
Funnily enough, this is something else that gamers have come to expect from even major video game companies. Despite the fact that Apple hasn't really toyed with doing something like this before, there have been plenty of video games and consoles that have shipped with peripherals that must be purchased separately. There are currently rumors that the Sony nixed plans to add back buttons to the PS5 Dualsense controller in order to cut costs, but may be selling them as a separate attachment. 
However, shipping without a power cable seems like a very big difference. Perhaps the idea here is that loyal customers will already have a Lightning cable they can use to charge their new phones, while any new customers can purchase a cable as an add-on. 
It's also worth noting that some of the upcoming new video games consoles are looking at ways of cutting manufacturing costs, as well. It has been reported that Sony may be limiting the number of PlayStation 5 consoles released within the first year of the system's life. This is due in part to the cost of materials going into the manufacture of each PS5. Reports have suggested that each PlayStation 5 costs about $470 for Sony to make, thanks to some of the more high-end materials being used in its construction. The cooling unit inside each PS5 console costs a little bit more than the industry standard, which has added up over time. 
On a related note, both the PS5 and the Xbox Series X are using high-end flash memory, which is also used extensively by the smart phone industry. In other words, there are multiple major platforms that are using the same kind of flash memory, which can result in shortages and even price hikes for these companies during manufacturing.
It's interesting to see how the gaming industry and the smart phone industry can both rely on one another and impact each other's futures in such massive ways. Apple has yet to comment on any of Kuo's predictions, which means that this could still go either way. If the iPhone 12 is truly meant to drop later this year, then we will likely hear something soon.