Dr Disrespect Finally Breaks His Silence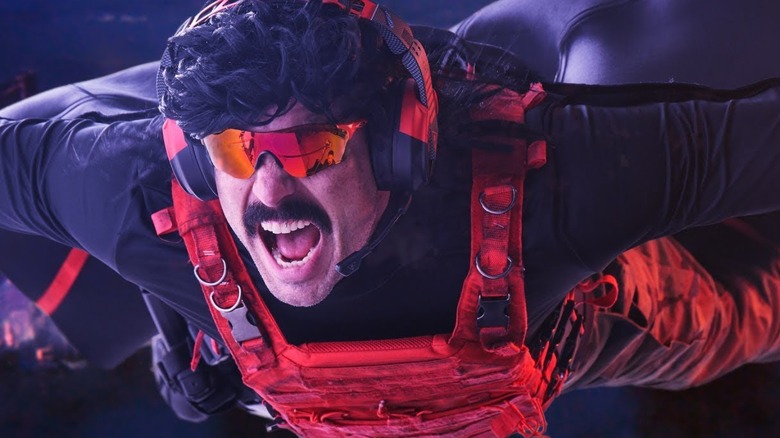 YouTube: DrDisrespect
It's been over a month since Dr Disrespect was mysteriously banned from Twitch. In that time, the Doc has been unusually silent on the matter. For a guy who is normally so over the top and outspoken, it has been strange to see him reluctant to comment on the situation. All of that has now changed, and the Doc has given us a bit of insight into how he's taking the news.
In an interview with The Washington Post, Dr Disrespect, a.k.a. Guy Beahm, explained that the situation has been weighing on him heavily. "I've been dealing with a lot of stress and anxiety," he said. "You know, my wife and I both, this is our livelihood. We worked really hard to get to this point. ... Let's just say I've felt all of the emotions that you could possibly feel."
According to the Doc, not only is he in the dark about why he was banned by Twitch, but the streaming platform didn't even contact him before enforcing the ban. As the Doc explained to The Washington Post, he began to notice that several of the features usually available to him were not working properly. Many were outright disabled, which made him further confused. The breaking point came when he was watching a friend's stream and that friend mentioned the news that Dr Disrespect had been banned. 
At this point, the Doc knew he had to get to the bottom of things. He told The Washington Post that he sent an email to Twitch asking why so much of his account had been disabled. In response, he was told that his account had been banned, but he was not given a reason why. 
This sounds pretty close to the only public announcement Twitch has made on the matter. The company simply reiterated its stance that it had taken "appropriate action" in response to a violation of Twitch's Community Guidelines. It's also worth noting that The Washington Post and other publications have repeatedly reached out to Twitch for comments on this developing situation, all to no avail.
This has led to a ton of speculation regarding the Doc's ban in recent weeks. Some confused fans have even taken to cooking up conspiracy theories to try to explain the situation. One theory was that the Doc had been banned for trying to start up his own competing service, the mysterious Brime. However, that idea was quickly shot down by the folks behind Brime. Other people accused fellow streamer Alinity of somehow being behind Dr Disrespect's ban, with some even claiming that Alinity and Dr Disrespect had been having a secret relationship off-camera. Alinity vehemently denied these allegations in an appearance on Dr. K's Twitch stream. In other words, the absence of any kind of satisfactory explanation has led to plenty of rumors, many of which are just weird.
Adding onto the confusion is the fact that the Doc very publicly renegotiated his contract with Twitch just this year. His contract was extended for another two years on the platform, which led some to believe that something major must have occurred for Twitch to void that contract. Even PewDiePie has weighed in on the matter, theorizing that Twitch may have let Dr Disrespect go when the company decided it would rather not pay him. According to PewDiePie's theory, this may have been done in retaliation against rumors that the Doc had been fielding offers from Microsoft's Mixer platform, which is now shutting down.
The Doc maintains that he is completely bewildered by the ban. As he told The Washington Post, "It was a total shock. Imagine showing up to work and the doors are closed and you can't get inside. You're going, 'What's going on?' And you've been told you've been fired. But you haven't been told the reason why. We just weren't given an answer ... It was the worst feeling."
So what's next for the Doc? It will be interesting to see if the developing drama impacts his TV deal in any way, as there are plans to produce a series of some kind based around Dr Disrespect's persona. In the meantime, it sounds like the Doc isn't going down without a fight. Unfortunately for his fans, any kind of future on Twitch seems out of the question.
The Doc recently told PC Gamer, "Obviously, for legal counsel, I have to be careful here. But I can say however, that I will not be returning to Twitch, so, I mean, that's it." He later added, "We are considering taking legal action [against Twitch]."