Why The Nintendo Direct Mini Is Causing An Uproar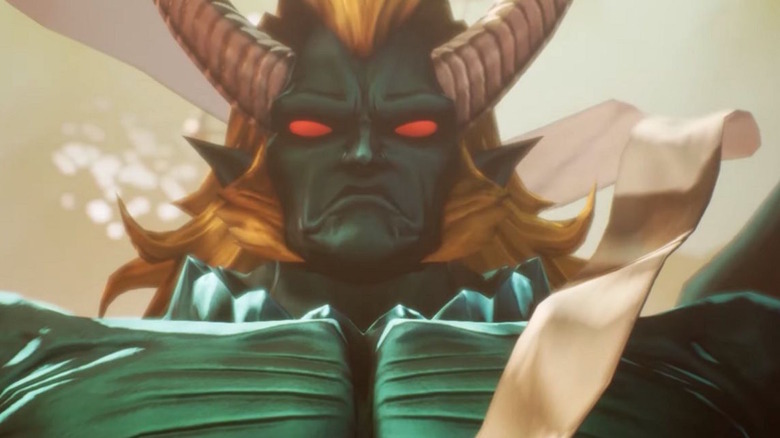 Yesterday, Nintendo surprised fans with the announcement of a new way of bringing them updates on the company's plans. On the Nintendo of America Twitter account, the company hyped up "the first #NintendoDirect Mini: Partner Showcase, a series focused on titles from our development & publishing partners." The focus of this broadcast was to "share a few updates on a small group of previously-announced #NintendoSwitch games."
Unfortunately for Nintendo and its fans, the following broadcast didn't exactly fulfill everyone's expectations. This has led to a bit of backlash on social media following the Nintendo Direct Mini. So what happened here?
Naturally, expectations were high for this broadcast. There have been a ton of games announced in the last few years for Nintendo platforms that have seen little to no update in quite some time. Metroid Prime 4 was announced, scrapped, and started from scratch. Bayonetta 3 has been in limbo for a while. We know there's a sequel coming for The Legend of Zelda: Breath of the Wild, but we don't know anything about what it will be and when we can expect it. Even the Nintendo Switch port of Doom Eternal appears to have been placed on the back burner, with no release date announced yet.
In other words, people have been clamoring for exactly these kinds of updates from Nintendo. True to its name, the Nintendo Direct Mini was rather short, running just over eight minutes. However, there were a few exciting updates for fans in that brief span of time.
The biggest announcement was the reveal of the official trailer for Shin Megami Tensei 5. Not only that, but it was announced that North American fans won't have to wait longer than everyone else; Shin Megami Tensei 5 will receive a simultaneous worldwide release in 2021. The latest installment in the series that Persona spun off from, Shin Megami Tensei 5 was announced for the Nintendo Switch way back in 2017, but there haven't really been any updates until now. Not only that, but it was announced that an HD remaster of Shin Megami Tensei 3 will be making its way to the Switch next year. All in all, that was some pretty great news for Shin Megami Tensei fans.
Also announced during the Nintendo Direct Mini was new DLC for The Legend of Zelda spin-off Cadence of Hyrule, which will feature new songs and characters. Of particular note is that the Cadence of Hyrule DLC will add Skull Kid from the too-creepy-to-be-rated-E Majora's Mask.
That about did it for the Nintendo Direct Mini and some fans were furious, to put it lightly. It seems that a lot of people had built this presentation up to be something much more in their heads. This can be seen in one extreme response from an angry fan who apparently broke their Nintendo Switch in half out of protest.

One tweet simply showed two screenshots comparing the ratio of likes to dislikes both at the start of the presentation and at the end. The difference is kind of staggering:
Nintendo Direct starts:
Nintendo Direct ends: pic.twitter.com/RsO89NMTo2

— OctoBoy (@OctoboyYT) July 20, 2020
Other folks just seemed rather underwhelmed. One fan responded to all of the Shin Megami Tensei news with, "Why are people hyped, am I missing something here, I didn't go in with any expectations and was somehow still disappointed."
Meanwhile, Shin Megami Tensei fans seemed over the moon. In particular, one fan pointed out the huge difference between how Shin Megami Tensei fans were reacting vs. how it seemed so many other fans took the Nintendo Direct Mini. They expressed that this Direct was exactly what fans of that series had been waiting for.
Obviously, Nintendo can't make everybody happy with every single announcement. Still, it's rather surprising to see the kind of angry responses that have rolled in following the Nintendo Direct Mini. Some have actually come to Nintendo's defense in this situation, however. As one person pointed out, Nintendo is clearly playing around with a new format for its Directs going forward. This fan wrote, "In terms of quality, there have definitely been worse. But given the statement 'We'll be doing more directs like this throughout the year,' I think that pretty much confirms we aren't getting a direct that isn't a partner showcase for the rest of the year." 
Another fan concurred with this, mentioning that Nintendo was pretty clear that this was a new series of smaller Directs. In other words, people may need to scale their expectations for Nintendo Direct Minis back a bit, at least for the time being. Maybe we'll get an update on one of those other long-awaited titles in the next broadcast. Nintendo hasn't set a date for the next Nintendo Direct Mini, but it probably won't be too long.