Did Apex Legends Reveal Its Next Map And Character?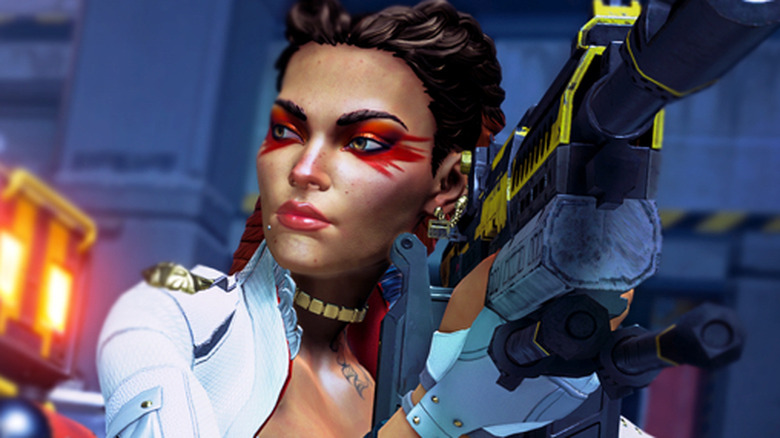 Apex Legends has been steadily building quite a mythology of its own ever since it launched early last year. Not only that, but it has occasionally found some really interesting ways of tying into the Titanfall series that it spun off from. It's beginning to look like those connections are about to get even more interesting. The clues are building up that point toward the arrival of a new map and a character from Titanfall 2 in the Apex Games.
Beware of spoilers ahead for the Broken Ghost questline from Apex Legends.
The final mission of Season 5's Broken Ghost questline features a very interesting appearance from what appears to be a fallen Titanfall 2 villain. TheGamer has rounded up a good number of clues pointing toward Titanfall 2's Ash joining the fray. Although Ash was destroyed during the events of Titanfall 2 and Apex Legends takes place decades later, Broken Ghost shows how Ash may have finally been resurrected.
Over the course of the quest, players will reassemble the head of a dead Simulacrum, which is a cybernetic soldier with a human brain. After placing the head of the Simulacrum, which greatly resembles Ash, the Simulacrum appears to return to life. This is notable for a number of reasons, and not just because the character used to be dead.
As TheGamer's Jeremiah Ginez put it, "Because the body is presumed to be Ash and combined with the fact that it looks like the body comes back to life, it is more certain than not that Ash will become a playable character at some point."
It's not a surprise that Apex Legends would tease a new character in a subtle way. After all, Respawn has a habit of sneaking in subtle nods to what comes next. The first official appearance of the character of Loba came during the cinematic trailer for Revenant's arrival in the Apex Games. She's the young woman whose parents are killed by the cyborg assassin. 
Then again, not all of Respawn's reveals for new characters have been quite so subtle. The first time we saw Revenant in full, it was during what was advertised as the reveal of another character, Forge. In Apex Legends' ultimate bait and switch, Revenant appeared from behind Forge and killed him, revealing himself as the actual new Apex Legends character.
In other words, it's more than likely that these hints toward Ash aren't just wishful thinking on the part of the fans. As GameRant pointed out recently, there have been plenty of leaks that suggest that Ash may play as a Recon type character. A previously-leaked character called Valk featured skydiving capabilities and the ability to launch barrages of missiles. Much in the same way that Loba originally leaked in game files under the name of "Rosie," it could be that the development of Valk could in fact be a cover for Respawn while developing Ash.
Dexerto recently pointed out that Ash has been teased previously in Apex Legends, all the way back in Season 4 of the game. During the Revenant reveal trailer, Ash can be seen in a news report discussing Simulacrums much like Revenant himself. As Dexerto concedes, there's a possibility that the Ash image wasn't meant to be taken literally, or that the image represents a Simulacrum model similar to Ash. However, given Respawn's history with teasing characters in this way, it's probably a good idea not to outright dismiss this appearance of Ash.
Only time will tell. Still, given Respawn's love of subverting expectations when it comes to character introductions, the news will likely come when we least expect it. We'll keep an eye out for any updates on Ash and her possible involvement in the Apex Games.
We may have also received a tease regarding a new map coming to the game. As pointed out once again by TheGamer, a dialogue sequence between the characters of Lifeline and Octane makes a few references to the planet Olympus. Specifically, Lifeline mentions going to Olympus, which seems to point to the Legends' next battles taking place there.
In the meantime, we do know that Respawn has some big changes in store for the battle royale game. Recently on Twitter, Apex Legends writer Tom Casiello was asked if there would be an unexpected ending for the current season. His answer was about as mysterious and cheeky as one would expect at this point.
"I expect the answer is dependent on what you're expecting. It's unexpected if you thought it was going to end differently. But if you guessed how it ends correctly, it's predictable," wrote Casiello. "The end of Season 5 sets up our stories for Season 6, and that's all I'll say about that."