Spider-Man: Miles Morales Just Keeps Getting Better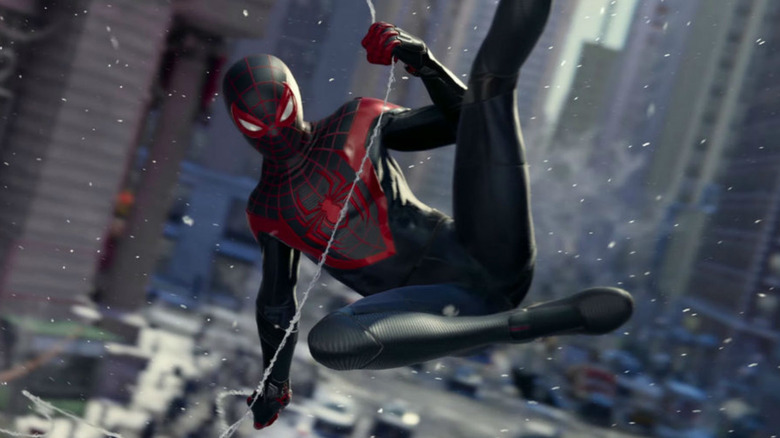 The hype around Spider-Man: Miles Morales continues to grow. The game was first revealed last month during Sony's Future of Gaming livestream event and is already one of the most talked-about PlayStation 5 exclusive games. However, a recent leak may have just sweetened the deal for fans of Sony and Insomniac Games' take on the Marvel Universe.
A fan on Reddit spotted an odd claim in a recent issue of Game Informer regarding Spider-Man: Miles Morales. According to the magazine, "Miles Morales isn't a traditional sequel, since it comes bundled with a remastered version of Insomniac's Spider-Man that takes full advantage of the PS5 hardware."
Yes, you read that right. Apparently Spider-Man: Miles Morales may actually come with a fully remastered edition of the 2018 smash hit, Marvel's Spider-Man. Whether it would be on its own disc or offered as a digital download is unclear.
Some of the commenters in this Reddit thread seem to believe that Game Informer misreported this, as this info has yet to be spotted anywhere else. As one commenter mentioned, if this were real, it certainly seems like Sony and Insomniac would have been promoting the availability of a Marvel's Spider-Man remaster from the get-go. After all, it would be a huge selling point for both fans of the original game and people curious to see how Miles' own story plays out on next-gen hardware.
Then again, if this news turns out to be true, we probably should have seen it coming. It seems like Sony has been eager to show off what a PS5 can really bring out of this game. In fact, some folks have actually reported seeing Marvel's Spider-Man running on a PlayStation 5 before this announcement. Early last year, PlayStation's Mark Cerny used Marvel's Spider-Man to demonstrate just how much faster the loading times are on the PlayStation 5. 
In his demonstration for Wired, Cerny played a brief section of Marvel's Spider-Man on a PS4 Pro. He used the game's fast-travel function to go from one point to the next, and it took approximately 15 seconds to load the new environment. Cerny then did the exact same thing on a PlayStation 5 dev kit, but it only took 0.8 seconds for that same function to load. 
Cerny also showed off just how much faster Spider-Man himself could move through the environment. With the city around Spidey rendering faster than before, the character could also move though it at much greater speeds. According to Wired's Peter Rubin, "On the next-gen console, the camera speeds uptown like it's mounted to a fighter jet," yet the graphics remained sharp.
It should also be noted that this dev kit was apparently a "low-speed" version of the console. In other words, we would be able to look forward to even more instantaneous responses from a full PlayStation 5 version of Marvel's Spider-Man. The mind reels at what kind of fast-paced web-slinging and combat would be possible on next-gen hardware. 
It's unclear whether or not a next-gen version of Marvel's Spider-Man would include any bonus features or new content, but it wouldn't be out of the realm of possibility. After all, we're getting new content for Grand Theft Auto 5 when it makes the jump to next-gen consoles next year, and that game will be roughly 8 years old by then. Not only was Marvel's Spider-Man a fairly recent big hit for PlayStation, but it's a PS-exclusive series. It would make sense to expand on the game and drum up renewed interest in the title (as well as new sales). 
This could also be an opportunity for Sony and Insomniac to add in some things that the fans have been wanting. Maybe the remastered version could finally let Spider-Man shoot some hoops in the park?
As of this writing, neither Sony or Insomniac Games have responded to these rumors regarding the remaster of Marvel's Spider-Man. There has been a bit of mixed messaging since this game was originally announced. At one point, gamers were under the impression that Miles Morales was just going to be a short DLC title. Luckily, that was quickly cleared up after a few days of confusion. The game will be shorter than Marvel's Spider-Man, but should still prove to be a fun experience in its own right.
Considering how quickly Insomniac Games addressed that whole situation, we will hopefully receive some kind of clarification on this possible remaster soon. We know that Spider-Man: Miles Morales is already a decent-sized game, but how cool would it be to get the whole Marvel's Spider-Man story in one package?
Spider-Man: Miles Morales doesn't have a specific release date yet (just like the PlayStation 5 itself), but we can look forward to swinging through New York and webbing up bad guys sometime this holiday season.