Why Fall Guys Is Causing Such A Commotion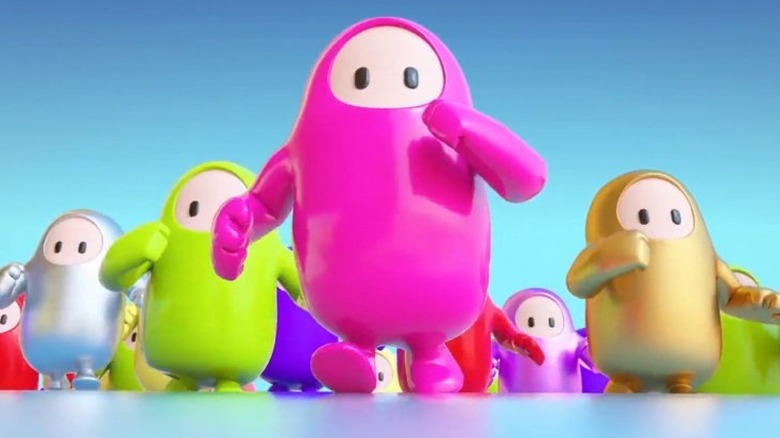 Sony recently announced which games would be offered for free to PlayStation Plus subscribers in the month of August. One of those two games is Devolver Digital's Fall Guys: Ultimate Knockout, and there are a ton of reasons to be intrigued by that particular announcement. The biggest reason of all is the fact that the game will be launching on PlayStation Plus on the same day that it launches to the general public. That's right; PS Plus will be offering an absolutely brand new game, free to subscribers.
The game has already been a huge hit for Twitch, as many streamers have been playing the beta of Fall Guys. In fact, the day that the beta went live, Fall Guys briefly dethroned Fortnite as the most viewed game on Twitch. Considering what a huge Twitch following other games like Fortnite and Call of Duty: Warzone have on streaming platforms, that's no easy feat. This has already increased the game's positive word of mouth, even before the announcement was made that the game would be free for PS Plus.
Fall Guys: Ultimate Knockout mixes battle royale and puzzle elements into one wild experience, which probably explains why so many Twitch viewers found it so fun to watch. 
The description of Fall Guys on the official PlayStation blog reads, "Survive a series of hilarious challenges until one victor remains in this colorful 60-person online multiplayer party game! Test your mettle in brutal free-for-alls or co-op challenges where only the winning team advances to the next round." The game also allows players to fully customize their characters with different outfits and senses of style. Some of the bonus costumes that have been glimpsed so far include Half-Life-themed character skins, which is sure to appeal to tons of hardcore gamers.
In other words, this sounds like a pretty wild party game. The fact that it's going to be free on launch day should have PS Plus subscribers even more excited for next month. For their own part, the folks at Devolver Digital announced that they were "thrilled" to see Fall Guys being added to PS Plus on launch day.
According to a interview with Screen Rant, Devolver Digital didn't exactly set out to create a battle royale game. Instead, the focus was on bringing all kinds of challenges together to kind of mimic the excitement of game shows. This also explains why the game has such a huge following on Twitch already. After all, who doesn't like game shows?
Devolver Digital's level designer Megan Ralph explained that the game has been designed to encourage people to keep playing and hone their skills. As she told Screen Rant, "Because it is competitive, and you are gonna feel amazing if you win after the five rounds, but you're not gonna feel bad in this game if you get knocked out in round two. It's gonna be funny, you're gonna have a laugh, and you're gonna jump back in again really quickly."
The decision to release Fall Guys for free on PS Plus has already led to some people predicting huge success for the game. After all, as pointed out by Forbes' Dave Thier, "Rocket League struck a similar deal with Sony, using that initial burst of word of mouth marketing and streaming to cement itself as one of the most popular arcade multiplayer games out there." Considering how successful the beta for Fall Guys has been, it already has a decent online following. Releasing the game for free on such a major platform could make this thing into a massive hit.
The popularity of the Fall Guys beta on Twitch will still be fresh in people's minds when the game becomes available for PS Plus next week, which will only boost awareness of the game and the number of folks who have played it. It may even bring more sales for the game from people who aren't subscribed to PS Plus, much like what happened with Rocket League's exploding popularity. It's hard to imagine it now, but Rocket League wasn't exactly an overnight success. It got there thanks to exclusivity deals and its popularity on social media. In other words, it's a win-win situation for Devolver Digital, Sony, and PS Plus subscribers.
All in all, it looks like August is going to be a huge month for PlayStation Plus subscribers. In addition to Fall Guys, subscribers will also get a free download of Call of Duty: Modern Warfare 2 Campaign Remastered. While it's not nearly as brand spanking new as Fall Guys, Modern Warfare 2 Campaign Remastered is another notable inclusion, considering it only came out a few months back. Both games have received glowing reviews, so PlayStation gamers should be excited to download both games when they become free on August 4.