Halo Infinite Rumor Has People Talking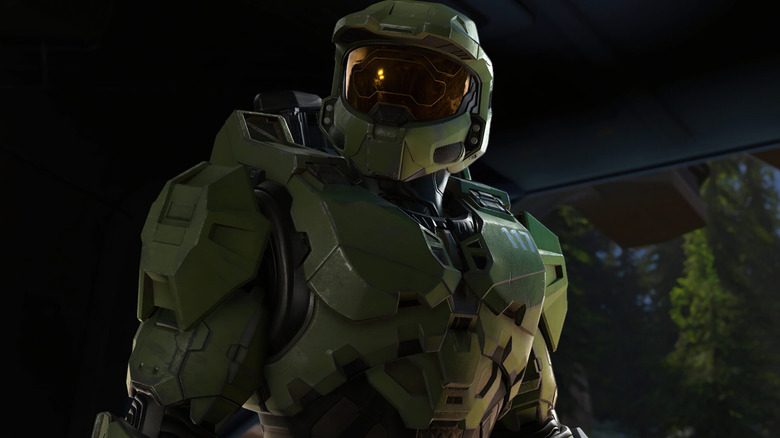 Halo Infinite has proven to be something of a controversial title well before its actual release. However, a new info leak may point to even more big changes coming to the long-running shooter franchise.
Advertisement
Earlier this week, Irish retailer Smyth's Toys Superstores posted a promotional page that featured all kinds of info related to the Xbox Series X and its launch titles. Among the games detailed in the post was the highly anticipated Halo Infinite. However, it seems as though there were details in the post that were either incorrect or were being revealed before Microsoft wanted them to be made public. As with many accidental leaks of this type, the original post has since been taken down. However, according to The Verge, the info listed in that promo page were very interesting. 
The listing reportedly read, "The legendary Halo series returns with the most expansive Master Chief campaign yet and a groundbreaking free-to-play multiplayer experience. Enjoy up to 120 FPS and greatly reduced load times creating seamless gameplay with Xbox Series X."
Advertisement
This is interesting for a number of reasons. It was previously reported that the multiplayer portion of Halo Infinite would be delayed, but this has since been proven untrue by 343, the developers of the game. This latest leak only seems to cement that further. However, it's the other "free-to-play" aspects of this listing that seems to be turning quite a few heads in the Halo fandom.
Noted video game leaker Klobrille seconded a few of the things from the original listing. According to them, multiplayer will indeed be free-to-play and is aiming for 120fps. Klobrille also claims that Halo Infinite will have a Battle Pass system of some kind and "Customization options completely new to Halo."
This led to a few people responding that they missed the customization from previous Halo games. Klobrille said he thinks people will really enjoy the new game's customization options. Still, others are concerned that releasing multiplayer with a free-to-play system and Battle Passes may result in major balancing issues.
Then again, as pointed out by NotebookCheck, these balance issues could possibly be avoided if the multiplayer is also released as its own standalone experience. This would allow gamers who didn't pay for the full game to enjoy the multiplayer on a separate server from players on a premium server. In this way, the multiplayer for Halo Infinite would function somewhat similarly to the now-defunct Halo Online. Again, this is only a theory.
Advertisement
The promise of 120fps is another aspect of the listing that has people talking. So far, most people haven't been terribly impressed by the footage of Halo Infinite that has been released. However, there are a few reasons to believe that this has all been in service of a higher framerate for online play.
Obviously, the graphics seen in the Halo Infinite demo have been a big topic of conversation since the Xbox Games Showcase. After it was revealed that the demo was run on a PC and not an Xbox Series X, people began wondering if Xbox even wanted customers to buy Halo Infinite or a Series X. Xbox Marketing GM Aaron Greenberg hand-waved the unimpressive graphics, explaining that it was "a work-in-progress" that was "just going to get better and better." Greenberg also told people that the Showcase livestream didn't show the game off at its full potential.
However, a recent blog post from 343 has indicated that the graphics of the game may actually be part of the plan. In an interview with Kotaku, 343's Chris Lee claimed that Halo Infinite's visual style is actually meant to invoke the look and feel of the original games in the series. Whether you buy that explanation or not, it's starting to seem like it may have been intentional. After all, if Halo Infinite is meant to prioritize huge expansive maps and speed of play over graphical fidelity, then maybe 343 is on the right track after all. It may be easier for the Xbox Series X to run the graphics we've seen at the high framerate advertised by this listing.
Advertisement
Then again, it's kind of hard to imagine a big launch title like Halo Infinite, the game that Xbox is pushing ahead of all others, not making graphics a top priority. After all, isn't this supposed to be the big upfront game that's going to help Microsoft sell Xbox Series X units? It will be hard to tell until we have the game in our hands this holiday season. 
Again, very little has been confirmed by Microsoft or 343. Until we hear anything definite, that gameplay demo from the Xbox Games Showcase demo is worth a re-watch, especially knowing what we may know now.